A Track-By-Track Guide The Album Bluey: Dance Mode!
The next record your family needs to listen to together arrives in April.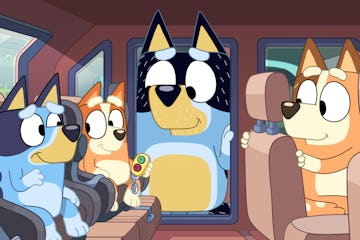 ABC/Disney+
We may receive a portion of sales if you purchase a product through a link in this article.
Bluey is known for many great things. But sometimes the music is overlooked. That said, a new album of Bluey music is coming on April 21, 2023, and a new single — "Dance Mode" — has just dropped. And there's so much to know about it! The new album —Bluey: Dance Mode! — is actually the second soundtrack record ever. The first, released in 2021, was the aptly titled Bluey: The Album, which took the number one spot on the US Kids Billboards charts, something it already accomplished in Australia only a wee bit earlier.
So, what should we expect from the sequel album? Bluey: Dance Mode! features songs from all three seasons, with fan favorites that are ready to delight Heeler family fanatics across the world. The tracks range from high-octane EDM-inspired kicks, to tender laid-back songs that soothe, but it's indisputable that each one is catchy and always uplifting. And don't worry, Unicorse is not a featured singer in any of the tunes.
But what's the deal with all of these songs? Which Bluey episodes do they come from? Who sings? When does the whole album drop? Will it be on vinyl? Let's get into it in great detail.
Bluey: Dance Mode! Every track explained
"Bluey Theme Tune (Dance Remix)" The Bluey theme is practically perfect in every way, but adding a perfect techno beat to it combined with more brass instruments only makes it easier to rock out. Your kids won't be the only ones headbanging to this one!
"Dance Mode "If you want to know how to get your kids into House music, this is it. The titular song to this soundtrack originates from the second season episode by the same name. With elements that will remind you of The Blue Man Group and a heavy dose of electronica, "Dance Mode" simply slaps!
"Doo-ba-Zoo "A boisterous steady beat that's a little bit jazzy, "Doo-ba-Zoo" is from the third season episode "Housework." Bingo and Dad make animal noises together that — unlike most other songs about animal noises — are quite enjoyable and warm.
"The BeeeeeOOP Walk" While the episode "Housework" showed the Heeler family getting very little actual chores done, it did show them bonding over silly walks in the vein of Monty Python.
"Chattermax" This Furby-like abomination is the bane to Chili and Bandit's existence, and now it can become yours, too! Chattermax debuted in Season 1 in "Fairies, but had a bigger role in "Hide and Seek," along with appearances in other episodes. While the toy might be annoying, the song is zany and rave-worthy. Break out your glowsticks for this jam!
"Copycat" While this episode of Bluey Season 1 (also called "Copycat") is more somber in many ways, the song is a wonderfully energetic tune that will make you wag your tail. Sweeping strings sections will uplift and invigorate.
"Lollipop Yum Yum Yum" Parents were first subjected to this song in the episode "Bad Mood" as well as this YouTube video. Somehow, they managed to make this a track with an epic intro, and more lyrics than what we were led to believe. This earworm will certainly bring joy to your kids but may be painful for parents. Luckily, it's only a minute long so the pain will subside, and who knows – you will probably learn to like it over time!
"Cat Squad" Power chords have never sounded better until they were paired with meows! The theme from Muffin's favorite show, we first learned about "Cat Squad" in the second season episode "Library." With a theme like this, it's no wonder why Muffin loves it! It features some great guitar riffs that will surely remind you of the Power Rangers theme song.
"Omelette" When the girls decide to make breakfast in bed for Dad, things go awry faster than you can crack an egg. This tasty tune from the third season episode with the same name is a lively song with solos for woodwinds and brass instruments, elements working in harmony to make a delicious song – one that Bandit can't help but gobble up by the end.
"Sticky Gecko" Chili just wanted the kids to get ready on time so they could go to the park, but the sticky gecko from season two had other plans. The tension is constantly on the rise, as the music picks up faster and faster until the crescendo at the end. This is another high-energy composition but slows back down for that always desirable sunset finish.
"The Gnome Song" (Feat. Meg Washington) For those who don't live in Australia, they may not know the voice of Bluey's teacher, Calypso, is played by a very talented singer by the name of Meg Washington. Regaling listeners with an extended version of the song from her debut episode in the first season, Meg's beautiful lullaby waltzes through your mind to bring sweet memories from your childhood to the surface too. This is the song that your kindergarten teacher would sing during naptime to quiet everyone down. A lovely piece that will quickly become a favorite amongst your family members.
"Army" We first met Jack in the second season episode "Army," where he met his best friend Rusty. The duo bonded together over military maneuvers, and that's where this jaunty tune came from. Adventurous and imaginative, this is like The A-Team theme for kids. With parts that sound like a marching band, it's another interactive piece that will have children and parents alike saluting to the beat.
"Grandad" We first met Grandpa Heeler, Chili's Dad, in the second season of the show, where he and the kids darted off into the bush to escape from Mom. This song takes the entire journey of that episode and compresses it into a daring two-and-a-half-minute romp complete with canoe interludes. This raucous song is wholesome fun that will have everyone clapping along.
"It Was Yesterday" The continuation of Grandad, this tearjerker is for the parents listening to the album. Simultaneously softening the tone with gentle banjo strums, it pauses the excitement to let you take a deep breath. Inhale, and revel at that moment by thinking back to moments with your parents that will surely come rushing to you as soon as you remember how this episode wraps up. After all, it was only just yesterday…
"Rain" One of the most beautiful episodes from season three, Rain was entirely silent and let the music tell the story. I was beyond pleased when I saw this track name on the album listing, as it's such an evocative and expressive piece from one of the best episodes of a very strong season. All the visuals will play out in your imagination, speaking to the talents of Mr. Bosh and the great work he does.
"Rainbow" The song continues into this track, as the clouds part and the colors of the sky light up with a rainbow. The stresses of the day will wash away with this two-part masterpiece by Joff Bosh, that's as rich in melody as it is in heart.
"Rain (Boldly in the Pretend)" – Feat. Jazz D'Arcy The perfect end to a perfect album, this version of "Rain" with lyrics by Jazz D'Arcy is a brilliant summation of what makes Bluey one of the best kids' shows out there. It treats its audience to real music that connects with you, no matter what age you are.
Bluey: Dance Mode! Release Date and Formats
Bluey: Dance Mode! will be available on April 21, 2023, from Spotify, Apple Music, iTunes, and other digital streaming platforms, along with a vinyl version which you can snag on Amazon, Vinyl, and other retailers. The single is out now and you can listen to it right here.
Exclusive: Behind the Scenes "Dance Mode" Clip
Want to know how the song "Dance Mode" was made? Here's an exclusive look.
Bluey is streaming on Disney+.
This article was originally published on