All Eyes On James Bond At The Met Gala 2023
We have an easy candidate for "Dressed To Thrill" at this year's Met Gala.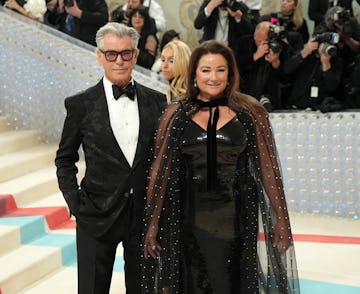 Sean Zanni/Patrick McMullan/Getty Images
Pierce Brosnan did James Bond proud at the 2023 Met Gala with a dark, perfectly fitting tux with a subtle floral pattern that was peerless at the event. Yes, Bond was one of the best-dressed men in attendance — would we have it any other way? Although it's been over 20 years since Brosnan played James Bond, his Met Gala looked proved once again, that nobody dresses better than 007. Pierce's 2023 fashion dominance also makes one wonder — could the 70-year-old play Bond again? Here's why Pierce's fashion was so on point in 2023, and why it closely aligns with James Bond.
Okay, so, you might think that historically, Bond's sartorial choices would have had him ditch the flowers and go for straight black. But that would mean you've totally forgotten about Bond's slick pink shirt in Diamonds Are Forever, or some of Brosnan's casual 007 looks in the 1990s. In a sense, Pierce Brosnan looks more like James Bond in 2023 than ever before. The fit of this tux, the simplicity, and the cool demeanor — topped with a crisp bow tie and tinted sunglasses — are all just right for the secret agent.
Pierce's was a Tom Ford suit, while his wife, Keely Shaye Smith wore a very Bond-esque gown from Monique Lhuillier.
The character of James Bond first wore a tux in Sean Connery's debut, Dr. No in 1962, in his very first scene. But, it wasn't until the Pierce Brosnan era which James Bond wore a tux exclusively in the famous opening sequence. Brosnan first wore a tux as Bond in the 1995 film GoldenEye, in which he was rocking a shirt from Sulka and a dinner jacket from William Halstead. In his last appearance as Bond in 2002, Brosnan wore a tux from Brioni which was actually midnight blue.
In almost every way, Pierce Brosnan's Tom Ford look at the Meta Gala is actually better than his James Bond tuxes. The man is 69 years but only the silver hair would tell you he's much older than in his Bond days (when he was in his 40s). As the Bond producers search for a replacement for Daniel Craig, one has to wonder — why not just bring back Pierce Brosnan?
The 69-year-old Pierce Brosnan and wife Keely Shaye Smith showed everyone how it's done at 2023 Met Gala.
Ray Tamarra/GC Images/Getty Images
Arturo Holmes/MG23/Getty Images Entertainment/Getty Images
John Shearer/WireImage/Getty Images
Sean Zanni/Patrick McMullan/Getty Images
Cindy Ord/MG23/Getty Images Entertainment/Getty Images
Matt Winkelmeyer/MG23/Getty Images Entertainment/Getty Images
This article was originally published on