Pete Davidson's Unironic Love of Dad Shoes Comes From A Special Place
Davidson could care less about following the "dad shoe" trend. Childhood memories are the true drivers of love for the thick comfortable classics.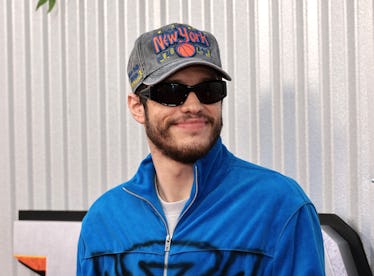 Jamie McCarthy/WireImage/Getty Images
Pete Davidson is a modern style icon. He's the kind of guy that can go to the Met Gala in a bucket hat and graphic t-shirt and make it a talked-about statement piece. He's also the kind of guy who can dress like your uncle — Knicks hat, grizzled beard, white t-shirt, and New Balances — and make us all feel a little better about our style choices. Speaking of New Balances, in a recent interview with Complex, Davidson opened up about his unironic love for dad shoes — or at least his appreciation of them.
Davidson joined Joe La Puma from Complex to go sneaker shopping in New York City, where they talked about their favorite brands of shoes and more. In their conversation, Davidson touched on his love for the dad sneaker and how his uncle influenced his passion for the chunky sneaker.
"You have to really dig, and find really cool stuff," Davidson says. For him, finding the perfect pair of shoes comes down to how ugly they are so he stays just above the trends. "Whatever is hot right now, I try to find whatever is really, really ugly because the chances are that's going to be really cool all of the sudden."
But Davidson is also a big fan of a sneaker style that's in on a little joke yet classically cool at the same time — the dad sneaker. When he spoke with La Puma five years ago, the two talked about Davidson's love for Solomon and New Balance brands, which are the opposite of unique and trendsetting.
According to Fatherly contributor and author of Sneakers, Alex French, there are some commonalities in shape and color for a sneaker to be categorized as a dad shoe. "Dad shoes, if you're unfamiliar with the concept, are typically thought of as white, thick-soled, chunky, absurdly comfortable sneakers that can be purchased at Kohls or Modell's for well under $100," French explains.
"They are the preferred shoes of undercover cops, power walkers, and middle-aged dads who don't really care about how they look. The Nike Monarch and New Balance 624 are the exemplars of the genre," he continues. "They both look like sweet potatoes strapped to your feet. Jerry Seinfeld popularized the look on his show in the 1990s."
So, what appeal do these basic shoes have for Davidson? Nostalgia and safety, he explains:
"They're super nostalgic. They remind me of what my uncle wore when he took me to like t-ball practice. So when I look at them, I feel like a sense of like safety, and they're really chill." Sound about right.