Welcome To The Sneaker Hall Of Fame
And the 2022 inductees are...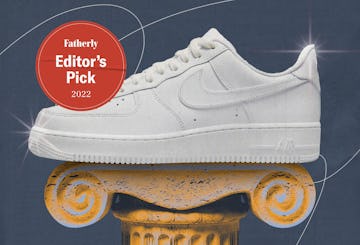 Nike / Getty / Fatherly
Dad shoes are having a moment. No, not that derisive "dad shoe," uttered in quotes with a roll of the eyes. Some of the most influential sneaker designers out there today — Kanye West, Virgil Abloh, Tinker Hatfield — are all dads. The shoes they create as such speak to passed down styles and nod to historical designs.
We're not saying dads hold the cultural power over sneakers here — not by a long shot. Sneaker culture is a dialogue, and dads have a seat at the table, a voice to shape what's cool, why it's cool, and where certain trends came from (yes, "when I was a kid..." is a fine way to start a conversation about sneakers).
So on this Hall of Fame sneakers list you won't find geriatric Nike Monarchs or New Balance 624 silhouettes. Instead you will find grail kicks, daily drivers, and function-first footwear for sneakerheads, style aficionados, and novices alike. Many of whom just happen to be fathers.