Airport Security Is A Parent's Nightmare. That's About To Change
A small but mighty rule change to TSA's pre-check could make your next trip to the airport way less stressful.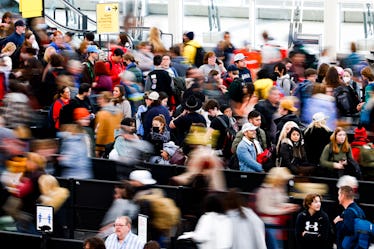 Michael Ciaglo/Getty Images News/Getty Images
A huge announcement for parents who start sweating just thinking about the stress and hassle that an airport security line can force on a whole family: summer travel is about to get easier for families with big kids, thanks to a new TSA regulation change. The ubiquitous airport security organization will finally allow children aged 13-17 to accompany their parents through PreCheck — an expedited security line available to travelers who pay a yearly fee for access.
Previously, only children 12 and younger were allowed to accompany their parents through PreCheck, leaving families with teens to go through separate security lines, wait together in longer, regular security lines even if they paid in advance for the PreCheck service, or pay for the service a second time for their teens.
"Teenagers aged 13-17 may now accompany TSA PreCheck enrolled parents or guardians through TSA PreCheck screening when traveling on the same reservation and when the TSA PreCheck indicator appears on the teen's boarding pass," the TSA said Monday in an announcement for the policy expansion.
The organization also noted that kids "13 to 17 may be randomly excluded from receiving TSA PreCheck on their boarding pass. In these cases, they must go through standard security screening."
Passengers using the PreCheck service may pass through security without taking off their shoes, belts, and some jackets and without removing laptops and liquids from their carry-on baggage. For parents who are juggling multiple carry-ons and kids unseasoned to the stressful demands of the security line, this change might not smooth over all that makes airport travel stressful, but it certainly helps them clear the first hurdle.
The PreCheck change is the latest in a series of air travel changes that make it easier for families to take to the skies. Earlier this year, the Department of Transportation encouraged airlines to stop charging additional fees for parents and children to sit together on flights, and Transportation Secretary Pete Buttigieg announced the introduction of a new online dashboard that allows parents to search for airlines that allows fee-free seating for families. Buttigieg is also pushing a rule change that would require airlines to pay passengers when flights are canceled and delayed through no fault of their own.
TSA is rolling out additional changes to make air travel more streamlined during the busy summer travel season. Additional Credential Authentication Technology (CAT) units are being installed nationwide. These units allow passengers to enter the terminal and pass through security without showing boarding passes or other identification. Similarly, some airports in Arizona, Colorado, Georgia, and Maryland have been equipped with terminals that scan state-issued driver's licenses uploaded to travelers' Apple Wallets, cutting down on time spent in security lines.