Pete Buttigieg: "Every Form Of Transportation Could Be Made Easier For Families"
Transportation Secretary Pete Buttigieg just made flying easier and cheaper for parents. Now, he has his sights on sidewalks (and trains, and roadways, and car seats, and...).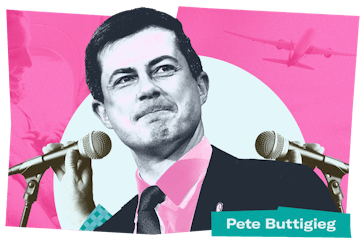 Emma Chao/Fatherly; Getty Images
Pete Buttigieg knows how much of a pain it is to fly with your family. That's not because he travels a ton with his 1.5-year-old twins — nightmarish though it is to travel with one toddler (let alone two). Instead, it's because the man is U.S. transportation secretary and just made a small (but also huge!) change to the airline industry. The move: calling out airlines that charge fees for parents to sit with their children (who are younger than 13).
It's a incremental step with big implications, and Secretary Buttigieg is well aware of this. Parents who travel with their young kids know just how much of a pain — and an expense — it can be to book adjacent seats just so you can sit next to each other as a family.
"This is part of a bigger issue where the airlines have gone to a model where there's fees for everything," Buttigieg said in an interview with Fatherly.
Everything from traveling by plane to walking down the sidewalk can prove tougher for parents, and Buttigieg feels those pain points keenly. Here, he talks to Fatherly about the just-launched DOT dashboard that shows parents which airlines will let families with kids younger than 13 to book seats together with no extra fees and which airlines provide the most support in case of flight delays or cancellation, how else he wants infrastructure to work better for parents, and the transportation world he wants his kids to see in the future.
Currently, according to the DOT dashboard, three out of 10 airlines are currently guaranteeing adjacent seats for kids younger than 13 at no extra cost. Do you have a sense that many more airlines will start to join this change and start to offer these seats? And if so, how quickly do you think that will happen?
We've been encouraged that very quickly, we've gotten to three out of 10 [airlines to guarantee adjacent seats for kids at no extra cost]. But it should be 10 out of 10. Every airline should be taking this step. It's common sense when you're traveling with your kids that you shouldn't have to pay extra to sit next to them. And you also shouldn't have to be in a situation where you're haggling with a gate agent or trying to work something out with other passengers.
So, we've pressed on this because we know that it's the right thing to do, and we think that there's a lot of benefit in the transparency. If you know as a passenger which airlines do this and which ones don't, that's going to lead to a higher standard and just give you that freedom of choice. So we're pushing on all the airlines to do it. They could do it today, and I hope they will.
You mention all the things that I think make travel so sticky for parents, the haggling, relying on the kindness of strangers. In terms of money, do you have a sense of how much money this might save the average family of four booking their travel?
It really depends on the case, but there's certainly times when I think a family has had to pay these junk fees unnecessarily and by surprise. This is something we hear about a lot. Sometimes the threat of a fee makes you resort to relying on the kindness of strangers. But also, look, this is part of a bigger economic issue where the airlines have gone to a model where there's fees for everything. Fees to pick out your seat, fees to get anything from Wi-Fi to a snack.
And up to a point, that could be a business decision. But when it's something as important as sitting with your family, we think there has to be a floor. And we're working on creating that floor through regulation.
One thing I've experienced is regulation takes a long time to finalize — just the legal process. So our thought is: Why wait for the rule making to be done when we could get the airlines to agree to this right now? And importantly, when they agree to do this in their customer service plan, we are then able to enforce that. There are fines if you violate that customer service plan. So this does have teeth even while we're working to create a regulation around this.
In terms of moving forward for families, what else can we do to make infrastructure, not just planes, but trains and roads, more friendly to families, whether it's leisure or day-to-day life?
Well, one thing I want to point to is what we're doing on the airport terminal side. So we just announced another round of 99 airports that are getting grants out of our billion-dollar airport terminal program. And a lot of that has features that are going to benefit families. Whether it's more space for a security checkpoint to help your family get to the gate more quickly or better bathrooms — every parent traveling with kids knows that's just one of those basic and extremely important things — being able to change your kids or take care of your kids. So some of these improvements, even just the real nuts and bolts stuff, the escalators, and the condition of the jet bridges, we think is really going to help that family travel experience.
And to your question, this goes beyond aviation. We really want to make sure that every form of transportation is easier and safer. That includes designs for roads that benefit safety, including safety for families that are walking or riding a bike together. It's part of why we're really promoting active transportation being safer. In our transit, one thing we're doing for Americans with disabilities is funding the upgrade of old transit stations that are not yet ADA compliant. That's the right thing to do for the disability community.
But any parent who's pushed a stroller knows that when a curb or, for that matter, a railway station, is designed to be easy to use for wheelchairs, that's also helpful for parents with strollers. When I'm navigating the D.C. Metro with the kids, [you really see] what's available to people who really count on that as wheelchair users. So that's another area where we think this funding can make a difference.
Look, every form of transportation is a form of transportation I think we could be making easier for families and for parents with kids. And most importantly of all, always working to make it safer.
What do you hope your kids will see as a normal way of traveling when they grow up? What's your pie-in-the-sky hope for how they'll navigate our infrastructure?
I think about this a lot because some of what we're building right now, the bridges, the tunnels, the airports, is infrastructure they'll be using for the rest of their lives. So it's very important to me personally that we get this right. I want them to be moving through airports that are the best in the world. I want them to have a lot of options, including good transit and good trains, so that they don't feel dependent on owning and using a car to get to anywhere they need to be.
I want to make sure that they're safe, of course, that they can, as they grow up, confidently and safely ride a bike or safely be a pedestrian wherever they go. And I want some of the things that we deal with routinely today to seem antiquated by the time they're old enough to ask about it, including the rate of roadway deaths. That could eventually, I think, become almost like polio. One of these things parents tell their disbelieving kids or grandkids, that "we used to tolerate 40,000 people dying every year in car crashes. But thankfully, we did the right thing so that your generation sees nothing of the sort."
What annoys you the most about traveling with your kids? What are the pain points that you'd want to change?
Well, one thing, and again, this is something that wheelchair users experience most of all, is not just the availability but the condition of elevators and other resources in our transit stations that need to be not just available, but well-kept, clean, and functioning. When you're pushing a stroller, you get just a hint of what daily life is like for wheelchair users who count on those transit stations.
As far as airports, every parent knows what it's like to have to change your kid, and sometimes change repeatedly, on the way to a flight. So just making sure there are good, available, safe and clean facilities for that. Those are really important.
And then the basics. Vehicles have become so much safer than they used to be and so have car seats. But you've got to make sure [people] understand how to use them, and we've got to make sure every parent knows how to use them. I mean, I'll admit to sometimes being confounded by the finer points of how to set up a car seat. And if that's challenging for a transportation safety official like me, I know how challenging that is for parents all over the place.