Flight Attendants Want To Ban 'Lap Babies' From Planes
It's not safe for your toddler to sit in your lap on an airplane, experts say.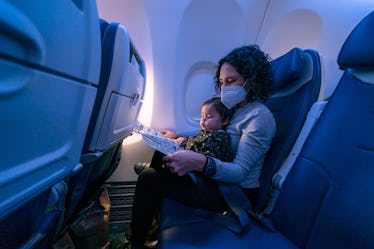 Fly View Productions/E+/Getty Images
Flight attendants are lobbying for big changes in how infants and toddlers fly the friendly skies. A flight attendant union with nearly 50,000 members across 19 airlines, The Association of Flight Attendants-CWA, is pushing for change to a decades-old rule that allows infants and toddlers under the age of 2 to fly for free if they sit in a parent or caregiver's lap during flights.
The union says that during extreme turbulence, lap-sitting poses a serious risk to small children.
"We've seen airplanes go through turbulence recently and drop 4,000 feet in a split second. The G-forces are not something even the most loving mother or father can guard against and hold their child. It's just physically impossible," Sara Nelson, president of the Association of Flight Attendants-CWA (AFA-CWA), told the Washington Post.
The Federal Aviation Administration (FAA) agrees, stating in its "Flying with Children" explainer that "The safest place for your child under the age of two on a U.S. airplane is in approved child restraint system (CRS) or device, not in your lap. Your arms aren't capable of holding your in-lap child securely, especially during unexpected turbulence, which is the number one cause of pediatric injuries on an airplane."
The organization recommends parents purchase a seat on the flight for young children and use a car seat for restraint.
The AFA-CWA argued its position to lawmakers at the recent FAA safety summit, advocating for a "seat for every soul." Congress is currently hashing out plans to replace the current FAA reauthorization bill, which expires in September. AFA-CWA members hope the new rule is included in the bill. The union presented the same argument the last time the bill was up for reauthorization back in 2018.
American Academy of Pediatrics president-elect Ben Hoffman agrees that young children should be safely restrained during flights, but notes purchasing an extra seat for an infant could be cost-prohibitive for families, increasing the likelihood of car travel, which is statistically more dangerous.
"If they travel by car instead, they will actually be putting themselves at a significantly greater risk because car crashes are so much more common than airplane incidents, whether it's a crash or turbulence," Hoffman told The Post, adding that "...it would be great if the airline provided some mechanism to support the parents and not charge a full fare."
But a full fare for children isn't the only concern. Currently, seven out of 10 airlines charge an extra fee for parents and children to sit in adjacent seats, further increasing costs for families to travel by air.
Recently, the Department of Transportation, headed by Sec. Pete Buttigieg, called out airlines that charge parents a fee to sit with their children on flights. "This is part of a bigger issue where the airlines have gone to a model where there's fees for everything," Buttigieg told Fatherly.
To make flying more accessible to families, the Department of Transportation just released a dashboard that allows parents to search for information on which airlines charge fees for parents and children to sit together.
Unfortunately, not all airlines are on board yet for allowing parents and children to sit together with no fee, but Buttigieg is optimistic that the holdouts will come around.
"We've been encouraged that very quickly, we've gotten to three out of 10 [airlines to guarantee adjacent seats for kids at no extra cost]. But it should be 10 out of 10. Every airline should be taking this step. It's common sense when you're traveling with your kids that you shouldn't have to pay extra to sit next to them," he explained. "And you also shouldn't have to be in a situation where you're haggling with a gate agent or trying to work something out with other passengers."