Biden Admin Pushes Rule Change That Could Pay Flyers For Canceled, Delayed Flights
The Biden administration and Pete Buttigieg are pushing a new rule that could make air travel planning and finances easier on families.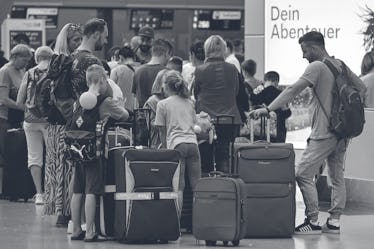 INA FASSBENDER/AFP/Getty Images
Travel is one of the pleasures of life — especially for families — where new memories are made and fun is had. But travel days, especially at airports, can be unbelievably stressful. Even if you plan everything in advance and to the tee, travel plans can, and do, go awry. Take, for example, the fact that you're not always guaranteed to have a seat next to your family, including your young children, and there are hidden fees from seat booking to bag checking that tally up quickly. But one pain point of flying — if your flight is canceled through no fault of your own, you're stuck paying out of pocket, and more so if you're flying with kids — could disappear completely.
That's because the Biden administration and particularly Secretary of Transportation Pete Buttigieg are pushing a new rule change that could make travel planning and finances easier to predict. According to ABC News, President Joe Biden and Transportation Secretary Pete Buttigieg plan to announce a new airline rulemaking process that would require airlines to compensate passengers who are inconvenienced due to "controllable airline cancellations or significant delays."
What does this mean for you? The next time your flight to Disney World is canceled, you might not be SOL.
"When an airline causes a flight cancellation or delay, passengers should not foot the bill," Buttigieg said in a statement, per CNN. "This rule would, for the first time in US history, propose to require airlines to compensate passengers and cover expenses such as meals, hotels, and rebooking in cases where the airline has caused a cancellation or significant delay."
The proposed rule would also define what is considered a "controllable cancelation or delay" so that there's less room for interpretation.
Biden and Buttigieg also announced the launch of an expanded Airline Customer Service Dashboard at FlightRights.gov. This new and expanded dashboard will show which airlines "offer cash compensation, provide travel credits or vouchers, or award frequent flyer miles and cover the costs for other amenities," according to CNN. The dashboard isn't a rule change in and of itself — that will come later and will take more time — but could compel airlines to do more for customers before an official rule change even happens.
It's a similar approach the Biden administration's Transportation Department used for another travel issue that impacted parents: that families aren't guaranteed to be able to get to sit together on flights. Last summer, Buttigieg issued a notice "encouraging U.S. airlines to have policies that enable children to be seated adjacent to an accompanying adult to the maximum extent practicable and at no additional cost" and launched a dashboard, too.
When the administration announced the launch of the dashboard that showed which airlines allow families to book seats together at no extra charge in March of 2023, Buttigieg said to Fatherly that rule changes take time — but public dashboards might pressure airlines into changing their ways faster.
"If you know as a passenger which airlines do this and which ones don't, that's going to lead to a higher standard and just give you that freedom of choice. So we're pushing on all the airlines to do it. They could do it today, and I hope they will," he said at the time.