This Map Shows Most Popular Easter Candy By State
"Most states like their snacks pretty eggy."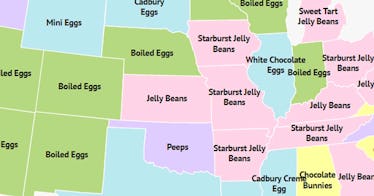 Zippia
Easter is a favorite holiday for kids because it often involves lots of candy. For many families, chocolate eggs, jellybeans, and sugary marshmallows shaped like ducks are synonymous with the holiday. But have you ever wondered which is the most popular Easter candy? Well, topping the list is an interesting one, and we have a map to prove it.
Easter is more than just candy. It's usually when we gather with friends and family closest to us. The holiday means an extra-long weekend from work, fun activities planned for the kids, and of course, an excuse to have extra-sugary treats on hand. Not all candy is made the same, and Zippia, a resource site for job seekers, wanted to discover the most popular Easter treats in each state.
Using Google Trends, Zippia looked at search volume queries in a two-week block around Easter 2020. "We defined Easter treats as treats that peak in search volume around Easter," Zippia explains. "From there, we determined what treat is searched a disproportionately, high amount in each state."
Some obvious candies made the top list, but "turns out, most states like their snacks pretty eggy (or at least egg-shaped)," Zippia concluded. And taking home the most popular Easter candy across the country was "boiled eggs."
Boiled eggs aren't candy, right?
We wouldn't even classify it as a "treat," but it is the most popular in 14 states. Colorado, Arizona, Maryland, Minnesota, and Vermont were a few that seem to love their boiled eggs. It's not clear if these were used for a snack, a craft, or a mix of both.
Taking home second place is Peeps, the favorite Easter treat in eight states, including Delaware, Nevada, Rhode Island, and North Carolina. Other top treats that made the list in at least one state includes white chocolate eggs, chocolate bunnies, jellybeans, Kinder Easter eggs, Cadbury Creme Egg, and caramel eggs.
This year, we may not get to have the large family gathering as we traditionally do. But, at least we have those boiled eggs, I guess.
This article was originally published on