John Legend's Marriage Advice Is Simple (And Brilliant)
John Legend is coming through with some solid marriage advice, particularly for parents with little kids at home.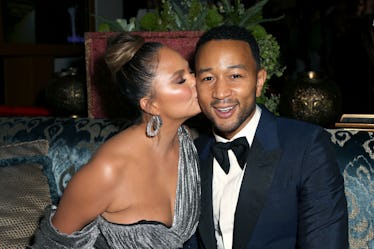 Variety/Penske Media/Getty Images
John Legend is coming through with some solid marriage advice, particularly for parents who have little kids at home. Chatting on the Call Her Daddy podcast, the husband and dad shared some very relatable insight into how to keep your marriage strong when you're parenting little kids.
Legend and his wife, Chrissy Teigen, have been together for ten years, and together they parent three kiddos, Esti Maxine, 9 weeks, Luna Simone, 7, and son Miles Theodore, 4. And having a busy household, which also includes Teigen's mom, means they have to get creative when it's time to get busy.
"Lock the door if you have kids," Legend advised parents while laughing. "Our kids have a way of finding their way into our room. If we ever want to have a good time, we have to lock the door."
However, when podcast host, Alex Cooper, asked if Teigen's mom ever causes issues when it comes to having alone time with Teigen, he admitted, "She's not the issue; it's the kids."
But, he still makes it work, explaining that spending time with Teigen is a priority and should be in marriage.
"You have to find time," he shared. "You still have to do those romantic gestures and make an effort. You can't take things for granted, especially if you've been together for a long time."
"If you allow yourself to just get in a rut, you've got to go on a date, do some fun things, make some romantic gestures," he continued.
Later in the interview, Legend talked about the special quality Teigen has that caught his attention a decade ago and helps keep things spicy now — her humor, calling it her "hottest" quality.
"It's probably obvious, but she makes me laugh all of the time and I think that just changes your whole world when you have somebody around you that makes you laugh," Legend shared.
"Even when you go through the worst things … when [your partner] has a sense of humor it just makes life better, it really does."
Legend echoed statements he's said about his marriage with Teigen before, that the culmination of the good and bad helps them stay connected.
"We've experienced pain and triumph, we've experienced the highs and the lows together, and we've grown into full adults together," Legend shared in an interview with Fatherly. "As your relationship evolves, as your experiences evolve, it informs your creativity. And hopefully, I'll just keep growing musically with my life."