With Baby #3, John Legend Reveals His Action-Packed Morning Routine
A whole lot of changes happen when a family welcomes a new baby. Just ask John Legend.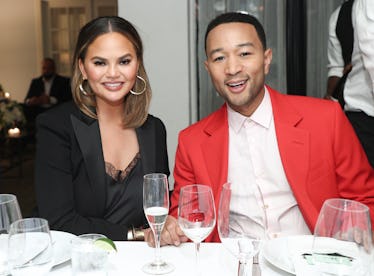 WWD/Penske Media/Getty Images
John Legend just welcomed his second daughter, named Esti Maxine, with his wife, Chrissy Teigen, making them a family of five. While he's not new to fatherhood, Legend has recently shared that adding one more person into his morning mix made his life much busier.
Talking with WSJ Magazine, Legend opened up about parenting and welcoming his newest baby, Esti, last month. "It was making me emotional the first two nights we were home because I just felt the love expand in the house, and I felt the excitement," he shared.
And now, with three kids in the home, including 6-year-old Luna and 4-year-old Miles, Legend and Teigen have a very different start to their day.
"We have a new baby, so we're at her mercy a little bit," Legend admitted. "Chrissy will usually wake up to feed her around 6, and then my older kids usually will come running into our bedroom around 6:30, no later than 7," he added.
"One way or another, our kids are waking us up," Legend joked. "We have a little gym in our house, and I'll usually work out, then get ready for the day and take the kids to school around 8:30."
Legend also explained that when it comes to breakfast time, that's all his domain, adding that he's "in charge" of that mealtime at his house.
"I make pancakes for the kids. Sometimes I make Chrissy oatmeal, which is supposed to be good for breastfeeding," he said. "I make lots of eggs and bacon and pretty much every version of breakfast meat that we might have."
Earlier this month, Legend shared the inspiration behind his daughter's unique name had familial ties to his grandmother and great-grandmother and updated fans on how his older two kids were adjusting to their new family member.
"We were worried because they seemed a little jealous when Chrissy was pregnant, and I was worried that they wouldn't be excited to welcome her home," Legend admitted, talking to Jennifer Hudson on The Jennifer Hudson Show.
"But they've exceeded our expectations of how loving and excited they are. They're just truly thrilled to be older siblings now."