John Legend Has More Love To Give
With a newborn at home and an intimate new album out, Legend reflects on the family philosophy of letting fans in.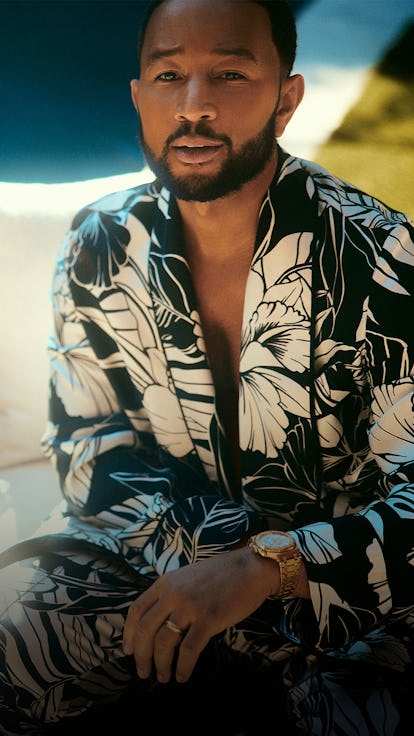 John Legend has a 4-week-old baby at home, his third with wife Chrissy Teigen, but you would not know it by Zooming with him. When the 44-year-old EGOT winner logs on, the late afternoon California sunlight dapples the least fatigued-new-dad face I've ever seen. Newborn Esti, he tells me, "has actually just added more excitement and joy and love to the house."
It's only fair that Legend looks suspiciously good, considering he's here, in part, to promote Loved01, his new, unisex skin care line formulated with melanin-rich skin in mind. "Most of the industry is the other way around," he says. In addition to prioritizing the needs of Black and brown skin, Legend's goal was to make the line accessible because, as he puts it, "people don't have $50 and $60 to put on a little jar of face moisturizer."
To hear it from Legend, the son of two tailors — a man who, in spite of the stylist on payroll, is known to iron his own clothes — grooming is just another aspect of the domestic life that he and Teigen share with the world. Giving the public selective access to his family life is at the core of his philosophy in songwriting and in business, he tells me. "Our passions are defined by what we do in our home," he says, looking — I cannot overstate this — more refreshed than anyone has ever looked on Zoom.
For John Legend, there's no leaving home at home nor leaving work at work. Below, Legend talks about his new album, Legend (Solo Piano Version); his changing relationship with social media; and how he thinks about his legacy as an artist and as Luna, Miles, and Esti's dad.
They weren't that worried about losing us to Esti. They know we have plenty of love to go around.
The last couple weeks have been huge for you. The Grammy nominations, the release of the piano versions of Legend, the launch of Loved01, and, most importantly, you and Chrissy welcomed your third child. So now you're outnumbered. Has the energy of your house changed?
Our kids are very excited to be big siblings. They love holding Esti. They love kissing her. They just love embracing this new little life in the house. We didn't know how that was going to go. We didn't know if they would be jealous or be sad. Miles might be sad that he wasn't the baby anymore, but he's totally embraced being Esti's big brother, and it's honestly made me very emotional and joyful seeing them together.
When Miles was born, we were given all this advice about how to bring him home from the hospital to Luna. She was 2 years old when he was born. But we didn't do any of that for Esti, I think because the kids are older now and they just kind of get it, and they're more secure in who they are. They weren't that worried about losing us to Esti. They know we have plenty of love to go around.
How do you tackle needing to be places for work while wanting to be home with your family too?
I'll schedule something, but then realize that it's too much and then cut back. Sometimes it's a balancing act, and I don't think we get it perfect, but we try our best to really be present for the kids and give them as much of our time as we can because these are important moments in our lives.
We wanted to share our story with people because ... a lot of people suffer in silence or feel like it's something they can't share with other people.
I'm in a better position to say no to more things now than I used to be. That's part of the privilege of success and experience. You're not needing extra exposure and all these other things that you needed to get back then. We'd say yes to all sorts of things back then.
You've shared a lot of your life in general, but you were particularly open about the loss of Jack. What has it meant to publicly navigate the hard parts and then getting to this place of joy for yourself?
The moments of joy and love just outweigh any negative experiences that we've had. But when we've had them, it tested our strength, it tested our resilience. Particularly as the husband, you are grieving yourself, but you're also knowing that it's even worse for your wife because it's not just emotional. It's a physical trauma that happens too when you lose a child.
Seeing her strength and resilience through that, despite all the challenges, it's been really inspiring for me. We wanted to share our story with people because we know a lot of other people go through it too, and a lot of people suffer in silence or feel like it's something they can't share with other people.
I feel like we helped make people who feel like they're struggling with fertility and other issues feel more comfortable sharing that and not as ashamed maybe as they may have been before. Chrissy gets it everywhere she goes. People walk up to her and talk to her about their gratitude to her for her bravery and sharing what she shared, and then they tell her what they've gone through too. It kind of unlocks people's willingness to talk about it too.
Brené Brown talks about vulnerability hangovers. Do you ever feel like "I'm sharing too much" or "I'm giving too much"?
I'm still guarded about things that I want to be guarded about, but part of our passions are defined by what we do in our home. I sing about relationships, I sing about love and human connection. The only way that really works is to be honest and authentic about your own love and your own relationships. And then Chrissy, most of her businesses and her passion is around cooking and things she does at home with us and the family.
We've experienced pain and triumph, we've experienced the highs and the lows together, and we've grown into full adults together.
Have you always been an open book as an artist, or is that something that has grown in your marriage?
Well, one, social media wasn't even around when I started as an artist, really, and then I wasn't with Chrissy. She grew up being in chatrooms and things like that, so she had already been into the idea of sharing and interacting with people online. So she really took to Twitter very quickly. I think she kind of brought me into it in a way. Because she had such a great rapport with people on Twitter, it made me feel more comfortable doing it too.
Twitter has changed so much. Instagram's changed so much.
We're not really on Twitter that much anymore. We don't tweet very much. And it feels like it's changed a lot. And it's not just when Elon [Musk] took over. I think even before then, it just felt like there were a lot of bots, a lot of negativity. It just felt more fun and loose at the beginning. I think it's lost some of that charm.
Nine years ago, I covered your performance at the Mann Center for Philadelphia magazine. You and Chrissy were newlyweds, and you were touring on Love in the Future. I wrote in the article, "This was not a stand up and dance concert. This is a lie on the floor, unbutton your blouse, and fan yourself with a copy of Ebony concert."
I'll take that.
How do you keep that passion going over the course of nine years?
Well, I think my song "I Don't Love You Like I Used To" sums it up very well because it's about how you evolve in a relationship. You're not in the same place you were when you started together. We've experienced pain and triumph, we've experienced the highs and the lows together, and we've grown into full adults together. As your relationship evolves, as your experiences evolve, it informs your creativity. And hopefully, I'll just keep growing musically with my life.
"I Don't Love You Like I Used To" was one of the songs that stood out on the new album, which is solo piano versions of 2022's Legend. What was the impetus behind re-recording these songs?
My own experience playing live. A lot of times, I'll do a show where it's just me. I love that format. I love telling stories. I love connecting with the audience. I love bringing out the lyric and the melody of the song in a way that's different than when you're playing with a full band.
I don't like to micromanage ... I think life should be very collaborative and we should all be learning together.
I always had thought it might be cool to do a piano version of the previous albums, but this is the first time I actually went and did it. I love the challenge of finding new ways to express the same song, finding the arrangement and the approach on the piano. All those things are interesting and fun to me. It just sounds different. It has a different feel and different connection, and I think it's fun for the audience to hear the songs in a new way.
You're changing as your fans are changing as well. Your songs get reintroduced to them at new points in their lives.
Once you release music, you don't have control over how the audience receives it, when they receive it, and when it means something to them, when they go through something in life that it takes on significance. It's like releasing your kids once they get out of high school. You can't control who they're going to be, what they're going to become. You have to let them have a life of their own.
Does being an artist inform the way you parent?
Oh, I'm of the belief that you can't control everything. I don't like to micromanage anything. And I think life should be very collaborative, and we should all be learning together. Not necessarily our kids teaching us a thing, though Miles has been pretty good at teaching me about dinosaurs and zoology in general, because he's so into it. But I think we learned from the act of parenting.
We learned from the back-and-forth, the negotiations, setting the rules and then realizing maybe this rule is too stringent or too rigid. Because I'm a creative person and a musician and a person used to collaborating, I think I can be laid-back about certain things without being too rigid.
Do you see that creative spirit in your kids?
Luna's very creative visually. She loves painting and creating visual art. She likes to build things. Miles loves to build things as well. Luna really loves music and sings along with the music in the car and likes to dance. It's not clear if Miles is going to be musical yet. He loves listening to music, but he doesn't really sing along a lot.
OK, this is probably the dumb question: Are you like a Kidz Bop family, or are they listening to your songs? Other music?
They're listening to mostly grown-up versions, but the edited version with the bleeps and all that. But they also love Disney and other stuff from the movies. They listen to me. They listen to Ariana Grande, Beyoncé. Not much hip-hop. It's hard to censor hip-hop and make it work.
I have one last question, about legacy. There's a version in you that's going to live in pop culture forever. But there's also a version of you that is, as with every father, that lives in the minds of your kids forever. And I wonder how you craft a version of yourself that is true and only available to them?
We take so many pictures; we make yearbooks; we really try to preserve our memories. The kids love looking back at how they looked as babies and talking about what that was like, especially as the new baby comes into our life. They'll remember when we go out on a daddy-son date to a football game or a basketball game. Miles remembers that for months and months and months, and he talks about it. Luna talks about when I took her out on a dinner date when we were on Christmas vacation, just me and her. Those kinds of moments, I think, are just always going to stay with them, and hopefully they'll be able to cherish them forever.
Top Image Credits: Tom Ford clothing, Audemars Piguet watch, Talent's own ring
Photographs by Austin Hargrave
Styling by David Thomas
Talent Bookings: Special Projects
Video Directors: Samuel Schultz, Alexander Van Brande
Photo Director: Alex Pollack
SVP Fashion: Tiffany Reid
SVP Creative: Karen Hibbert