The Baby Names That Could Dominate 2023 Are Not What You'd Think
It looks like unique is back.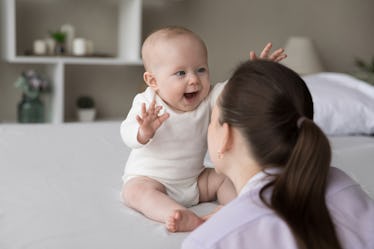 Shutterstock
One of the biggest decisions a new parent has to make almost immediately after welcoming a baby into the world or getting pregnant is deciding on a name. This baby name, in most cases, will be with them for their whole life. It's a huge decision — and why so many parents-to-be mull over top baby name lists. If you're expecting a baby soon, here's a list of the baby names dominating 2023 so far.
Nameberry, a major baby name site, has released the data of its most viewed and searched girl and boy names so far in 2023, giving some insight into which names are sitting at the top of parents' minds right now.
"Experience has shown our lists to be an excellent indicator of a name's future popularity," the site explains.
However, the site acknowledges that some baby name searches — like those that match popular famous babies, like Aire — might be on the 2023 prediction list this year, but not on more official, long-term baby name lists like the one the Social Security Administration releases annually. Instead, these searches could be tied to the newsiness of their names.
Additionally, the list includes names that are being considered, and there's no indication yet that these names will be on thousands of birth certificates any time soon.
So which names are grabbing all the attention this year?
Baby Girl Names Dominating 2023 So Far:
Luxury
Aurelia
Maeve
Eloise
Alice
Aurora
Isla
Luna
Ophelia
Iris
The only names to hang on here from Nameberry's previous prediction lists are Luxury, which is interesting since it's so unique, and Luna, which has been around for a while.
Baby Boy Names Dominating 2023 So Far:
Aire
Royal
Soren
Theodore
Silas
Felix
Atticus
Cassius
Oliver
Hugo
The only boy name that's hung on from Nameberry's previous prediction lists is Oliver, which isn't surprising since it's been in the top 10 most popular boy names since 2017, according to Social Security Administration.
For the full list, check out Nameberry.