These Are The Top 10 Baby Girl And Boy Names So Far In 2023
There are already some frontrunners for the most popular baby boy and baby girl names for 2023.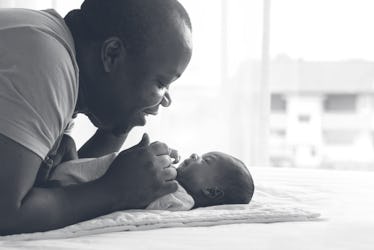 Shutterstock
For parents who are expecting a baby and considering the name they might give their newborn, it's helpful to know which baby names are trending — whether or not you want to go with the flow or stand out and give your baby a unique name.
The official list of top baby names for 2023, which is shared by the United States Social Security Administration and uses government data, won't be available until later on. However, there are some trends being reported that we can follow right now that give hints for what people are naming their babies so far this year, and Baby Center has compiled them for expecting parents.
Baby Center is keeping tabs on the rolling top names that will shift and change throughout this. "We update [the baby name list] in real time, using data BabyCenter parents share with us as they choose their baby's name," the site explains. "No trend forecasting or conjecturing here; just a live look at the names parents are loving right now."
And there are some frontrunners already this year for baby boy and baby girl names that have, in past years, topped baby name lists.
Here are the top 10 baby names for boys so far in 2023:
Noah
Oliver
Liam
Lucas
Aiden
Jack
James
John
Elijah
Ethan
Here are the top 10 baby names for girls so far in 2023:
Olivia
Luna
Amelia
Aurora
Emma
Charlotte
Harper
Isabella
Abigail
Gianna
To read the full list of the most popular baby names so far in 2023, check out Baby Center.