The Most Popular Baby Names In Ireland Leave 'Liam' In The Dust
Yes, yes, Liam is on the list. But the name isn't even close to #1 for boys in Ireland.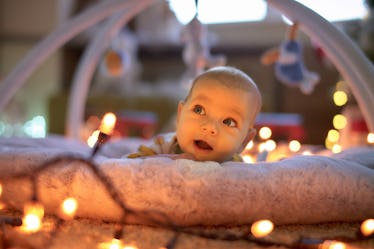 skynesher/E+/Getty Images
It's not easy to choose a baby name and feel confident that you'll love it forever and that your kid won't be mad at your choice later on, too. But if you're on the hunt for the perfect name, sometimes looking at which baby names are popular in other countries can help — like Ireland.
As the Irish Times reports, new figures have been released from the Central Statistics Office, which is similar to the U.S. Social Security Administration's baby name database, showing the baby names that are on the rise and that reached top popularity in 2022 in Ireland.
There are some beautiful names that are really popular in Ireland that we don't hear as often in the U.S., like Oisin, which means "little deer," and Freya, which means "lady." For those who are looking for Irish baby names other than Liam — which has famously been the most popular baby boy name across the U.S. for a long time — this is a great list.
So if Liam is been-there, done-that, there are plenty more unique Irish names that are getting some attention that might spark some creativity for you. For example, the name Tomás is quickly rising in the country and has jumped 42 names, landing at spot 77. For the girls, Éala is the fastest-rising name in popularity, jumping 86 places to land at spot 91.
There are some newcomers in the top 100 lists for Ireland, too. For boys, Blake and Cody cracked the top 100 list, and for girls, Phoebe, Hailey, and Ayda have joined the rest of the top 100 names.
But which names are the best of the lot, according to baby name data from 2022?
Here are the most popular girl names in Ireland:
Emily
Grace
Fiadh
Sophie
Lily
Éabha
Ava
Mia
Ellie
Olivia
Amelia
Emma
Hannah
Ella
Freya
Here are the most popular boy names in Ireland:
Jack
Noah
James
Rian
Charlie
Oisin
Tadhg
Liam
Cillian
Daniel
Fionn
Michael
Conor
Finn
Patrick
To read more about the popular names in Ireland, check out the Central Statistics Office's infographic.