The Most Popular Baby Girl Name In Alaska For 2022 Is Totally Badass
Alaska has never been afraid of being a little different.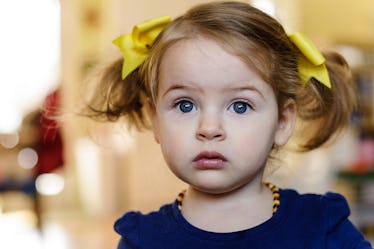 ~just charlaine/Moment/Getty Images
The Social Security Administration (SSA) recently released its official list of the top baby names of 2022, giving us a glimpse into which baby names are on the rise and which ones are losing favor. Overall, it's clear that the most popular baby names continue to have staying power. But there are also some unique newcomers that might provide game-changing inspiration if you're looking for more rare baby names right now. The SSA also breaks out the most popular baby names by state — and when it comes to baby girls, it's clear that the state of Alaska doesn't mind standing on its own.
We saw that the most popular or fastest-rising names last year were influenced by pop culture moments. Yellowstone, for example, was a huge influence on baby names, with the top two fastest-rising baby boy names of 2022 being inspired by the show (Dutton and Kayce).
But although Yellowstone brought in some unique names in the fastest-rising category, the baby names that land in the top five most popular tend to be free of surprises: Emma, Liam, Harper, Noah. When you look at baby name data broken out by state, it's more or less the same story.
Well, except for Alaska. The most popular baby girl name in 2022 in the state of Alaska was Aurora. The name, which means "dawn," per Nameberry, isn't in the top five baby girl names of any other state in the U.S. for 2022 — and is not even in the top 20 of the most popular baby names nationwide.
It's a pretty substantial departure from the rest of the list. The SSA dropped the five most popular baby names in each state by gender, and repeats abound: Olivia is on the list 48 times, most often in the top two spots; Emma is shown 40 times; and Charlotte makes 39 appearances. Other names aren't as popular, including Luna, which is on the list four times; even Hazel appears twice. But Aurora stands alone.
Aurora wasn't on the list for 2021's most popular baby girl names by state, but it did land in the fourth spot for Alaska in 2020.
To check out the complete list of popular baby names by state, and to see what baby boy names were trending too, check out the Social Security Administration's website.