The 45 Best Back to School Supplies, Lunch Boxes, Backpacks, And More For Your Kids
From backpacks and lunch boxes to back-to-school supplies and kids shoes, it's all here.
by Dave Baldwin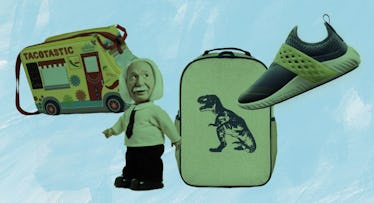 Doesn't matter if a kid's going into first grade or 10th, enjoys school or hates it, one thing will always be true: they love getting free stuff. Between the clothes and kicks, the gadgets, pens, and bookbags, back-to-school shopping equals a lot of new swag. It's pretty much Christmas hidden under the guise of "learning."
RELATED: The Best Lunch Boxes And Bags for Back to School
And while dropping all that cash makes you cringe as a parent, kids do need things. They can't turn in homework on recycled paper from your office or roll into class wearing shoes with holes. So to help you get a beat on all the cool stuff, before they try to sell you on the whole store, we've put together this ultimate buyer's guide to this year's best back-to-school gear.
1. SoYoung Dino Backpack
The cool thing about SoYoung's line of eco-friendly raw linen backpacks (and lunch boxes) ⏤ other than their crisp iconography ⏤ is that they can get dumped right in the washing machine. No need to spot clean all those Juicy Juice stains. The back-to-school backpack boasts an internal mesh pocket, room for a full-sized Trapper Keeper, and two water bottle pockets to ensure Junior stays properly hydrated. And while it's sized for kids aged 6 to 11, a toddler version is also available for pre-schoolers.
2. Star Wars Ultimate Creative Art Maker Pen Set
The force will definitely be strong in art class with this officially licensed 200-piece Star Wars mega kit. It's loaded with markers, pens, notebooks, and stickers, not to mention crayons, a pencil case, and even a Protractor (beam?) ⏤ all featuring characters and images from the original three movies.
3. PLAE Kids Ty Sneaker
Thanks to interchangeable tabs on each Velcro strap, kids can customize their PLAE shoes with different colors and prints. The lightweight neoprene back-to-school kids shoes are machine washable, rock a thick toe guard, and feature shock-absorbing (and anti-bacterial) Eco-Ortholite soles. And speaking of "eco," the upper is made from recycled milk jugs.
4. Orboot Augmented Reality Globe
Globes are nearly extinct in today's classrooms, so naturally somebody decided to disrupt the industry. That somebody is Orboot, and they've developed a futuristic version that works with AR technology to turn armchair geography into a fully interactive experience. Just point your smartphone or tablet at a place on the globe and prepare to learn all about the history, culture, flora, fauna, and more. What's old is new — and more rad than ever.
5. Taco Tote Lunch Truck
A lunch box to match your kid's flat-pack taco truck fort, the insulated "Tacotastic" back-to-school tote bag from BigMouth features a wide-mouth zippered opening and hard sides to keep their hard shells from getting cracked.
6. Lassig Little One & Me Backpack Small
The Little One & Me is a matching pint-sized version of Lassig's popular canvas diaper backpack. So plan on you and your elementary school-aged child being twinsies. The kid's back-to-school backpack features an internal pen pocket, name badge, and a drawstring closure. Plus, the main compartment fits a full-sized lunch box.
Protection from monsters under the bed comes with a price. This planter-like nightlight uses soft LED glow and replaceable discs to project words, numbers, shapes, and pictures onto the bedroom ceiling. The starter pack will get you going (Tropical Night, Solar System, Sleep Times, Marine Night, and Speed Animals), but there's an online shop with additional disks (state maps, multiplication tables, presidents, etc.), and Helio developed many of them with the help of teaching professionals. For the first time ever, your kid will actually look forward to turning off the light after story time — and going back to school.
8. Jaswig My First Standup Kids Desk
The Jawsig is a handsome wooden standing desk for kids who understand the benefits of open workspace collaboration and hitting your daily FitBit/Vivo Jr. steps. It's actually a mini version of the company's adult standing desk, the StandUp Nomad, and is made of eco-friendly birch plywood; the edges are rounded, there are "no pinch-points for their fingers," and there's even a convenient storage cubby in the front for the noise-canceling headphones they're going to need to drown out the terrible playlist blasting over the living room speakers. ("Dad! Nobody wants to hear the Spin Doctors again.") The back-to-school standing desk measures 18-inches by 23-inches and includes 6 different height settings (from 27- to 35-inches), so the desk will grow along with their company.
9. Super Heroic TMBLR V1
Just-released by former Nike head designer, Jason Mayden, SuperHeroic's debut TMBLR kids shoe has grippy sidewalls to help kids climb the wrong way up the slide. It uses an internal lining that fits like a sock, held in place by a sturdy utility strap. Meanwhile, the extra-large heel tabs can shave up to 6.7 seconds off the daily dressing routine. Boom.
10. Brown Paper Bag Insulated Lunch Bag
An eco-friendly way to teach kids the importance of brown bagging it (no, we can't get Chipotle every day, son) without actually burning through paper bags, this tear/leak-proof lunch sack looks like a wrinkled paper bag, keeps food both hot or cold, and rocks a double magnet roll-top fastener.
11. Herschel x MLB Pack
It doesn't matter if your future major leaguer loves the Giants, the Braves, or the Red Sox, Herschel's new Major League Baseball line covers all 32 teams. The Heritage back-to-school backpacks are gloriously streamlined, including a 15-inch laptop sleeve, media pocket with headphone port, and nothing excessive.
12. Super Hero Notebooks
A different superhero for every class, each of these four, 130-page hardcover composition books are full sized (16.9-inch by 10.5-inch) and come emblazoned with the logos of either Batman, Superman, Transformers, or Captain America. If you want to lighten the load in your child's back-to-school knapsack, they're also sold in paperback with different colored covers.
13. Keen Kids Sprout Mid Sneaker
This stylish mid-top kids shoes combines elastic laces and an adjustable loop strap to keep kids' tiny feet secure during manic playground sessions. A wide entry makes these shoes easy to slide on, and the removable footbed has a clever "check your fit" indicator so you know just how soon they'll need a new back-to-school pair (answer: probably yesterday at the rate they're growing.)
Step aside, because you're about to forfeit your status as the "Knower of Things" in the eyes of your child. This mildly creepy 15-inch Einstein robot uses speech and movement recognition to engage kids and shower them with facts about science, people, places, weather, and much more. Paired with the Stein-O-Matic app (not to be confused with Hipstamatic), Robot Einstein does his share of back-to-school learning as well, so the content will never get stale.
15. Zoli Lunch Kits
Prepping your kid's back-to-school lunch will be a breeze with this all-in-one kit; it includes the NOMNOM lunch tote filled with a 10-ounce insulated water bottle, a food jar, a spork, and their popular tiered SUMO snack stackers.
16. Patagonia Kids Bonsai Pack
Patagonia's retro-themed Bonsai kids backpack has enough space for all the books and snack packs, thanks to a bucket-style main compartment and an easy-access external pocket. It's made from a tough, recycled polyester that handles all the wear and tear a kid can throw at it, and the water-repelling finish ensures books stay dry, even when your kid inevitably leaves the bag out in the rain.
17. Image Lock
Because there's nothing worse than having to toss out a perfectly good lock because Junior forgot the combination, Image Lock steals a page out a Dan Brown book and uses a series of icons and pictures to crack the code. Sure, your kid can just as easily forget the pictures but isn't "Dog-Umbrella-Butterfly" easier than a random string of numbers?
18. Vans x Dallas Clayton Authentic
Dallas Clayton is the author and illustrator of the Awesome Book series, and his Vans collaboration will turn heads regardless of age. Complete with signature Vans details like rubber waffle outsoles and metal eyelets, these back-to-school kids shoes have wraparound "Keep It Moving" graphics inspired by his books. Caution: You may be tempted to put these in a display case instead of on your kid's feet.
19. Osmo Coding Jam
The Osmo is a nifty gaming accessory that destroys the notion of mindless screen time. Simply stick your iPad into the tilted base and clip the red reflector over the camera lens. Like magic, the technology "reads" the surface directly in front of the iPad, so it can interact with real-life coding blocks on the table, each of which plays a different musical instrument (bass, drums, melody, etc.). By connecting and adjusting the blocks, kids create longer music jams and learn to code in the process. Code Phish's entire Runaway Jim, and they're rewarded with a job at Google.
20. OmieLife OmieBox
Your kid will blow minds in the cafeteria with the OmieBox, a back-to-school lunchbox that includes an insulated, sealable bowl that keeps food hot or cold without spilling — or removes completely to make way for a tasty sandwich. It's leak-proof and has removable dividers to fit different sizes and types of foods.
21. Oh The Places You'll Go! Pencils
No doubt still riding a high from visiting the new Dr. Seuss Museum in Springfield, MA, kids can dream big as they do math problems using one of these Oh The Places You'll Go! pencils, named after the good doctor's last and most inspirational tome. Each box comes with 72 pencils in one of four colors.
22. See Kai Run Monroe
The Monroe is a suede sneaker-boot that can be dressed up for fancy dinners or dressed down for muddy parks. The back-to-school kids shoes have extra-wide toe-box for maximum wiggle room and a single strap-on top makes for effortless on and off drills. A deep Herringbone lug pattern on the sole keeps even the clumsiest of kids upright, even on slick surfaces.
In the parlance of the Big Lebowski, the newly rereleased Nokia 3310 might just be the back-to-school phone for kids this place and time. This thing has nothing more than 2G connectivity (that's voice, text and rudimentary Internet browsing), a 2.4-inch color display, FM radio, an MP3 player and not much else. Why bother, you ask? Because your kid doesn't actually need a Rose Gold 256GB iPhone 7 Plus. Available in four colors, this "dumb phone" happens to be the perfect starter device in 2017.
24. Dino Case
Suck UK's Dino Case is a toothy T-Rex head lunch box with a moveable jaw that uses two gleaming rows of teeth and a muzzle carrying strap to keep carrot sticks, crust-free sandwiches, and Fruit Roll-Ups safe. It's made out of food/drink-safe plastic, weighs about a pound ⏤ in case your kid isn't working out yet ⏤ and is recommended for ages 3 and up.
25. Urban Infant Packie Preschool Backpack
As if the subway map print wasn't enough to showcase your toddler's hipness, the Packie rocks a patented art silo tube on the side to ensure they can get their art home unscathed. Because nobody wants to fold up that precious hand Turkey. A matching lunch box and pencil pouch are sold separately.
26. Converse Custom Chuck Taylor All Star High Top
The only thing cooler than watching your kid lace up his first pair of Chucks is sitting down with them to dial in the NikeID customization. From colors to prints to adding your own text, the options are limitless. The only thing you can't control is the placement of the star-centered ankle patch ⏤ but you wouldn't want to mess with that symbol of shoe perfection before back-to-school season, right?
27. Albert Clock
Instead of a traditional display with hours and minutes, the Albert Clock forces kids to perform simple mathematical calculations (with multiple levels of difficulty) to deduce the time of day. This makes for built-in brain training from the moment he or she wakes up until the moment they drift off to sleep. Back-to-school torture device or intelligence booster? Wait for that first round of test scores to make the call.
28. JJ Cole Snack Bags
Every day you pack your kids crackers and apple slices in one of these machine-washable, water-resistant snack bags from JJ Cole means one less plastic sandwich baggie ends up in a landfill. Also, the back-to-shool lunch supplies are decorated like robots, cats, rockets, or butterflies, so everybody wins.
29. Tea Collection Scott Triangle Backpack
Say what you will about this back-to-school backpack's bright orange and bold triangle print, but at least you know it's not going to get lost. Nor is your kid when they're wearing it. The 16L polyester Scott Triangle has a zip front pocket, adjustable shoulder straps, and is sized for kids five and up.
30. Nike Roshe One
The grown-up version of the Nike Roshe One was inspired by the concept of Zen meditation, which, of course, is impossible to do when raising an active child, but still. This mini-me back-to-school model (which comes in 10 colors) uses breathable mesh, lightweight foam, and waffle tread to keep your future Deena Kastor's feet comfy and supported.
31. The Penmanship Projector
When was the last time you had to print the letter Q fifty times in a row? Learning how to write can be a traumatic experience for kids. That's where the penmanship projector comes in. Using a small bulb and eight included discs, it shines an outline into the drawing area, helping that future novelist master the curves and nuances of each letter and number. If you're intrigued, don't forget to check out FollowGrams, a smaller projector that focuses on drawing.
32. BUILT NY Big Apple Buddies Cornelia Cat Lunch Backpack
For the toddler with a big appetite and presumably a heavy lunch, the Cornelia Cat box is actually a back-to-school backpack with adjustable padded shoulder straps, wipe-clean interior, and zippered front pocket for quick access to snacks on the go.
33. Babymel Zip & Zoe City Print
Zip & Zoe are two fuzzy cartoon characters that lie at the heart of Babymel's back-to-school backpack collection, and your kids are going to love them. Maybe. Either way, they're having a big city adventure on this junior backpack which features a large zipped front pocket, elastic bottle holder, and Zip or Zoe key ring.
34. Native Monaco Low NP Sneaker
Native makes "beast free footwear," which is another way of saying they don't use animal products. The low-cut Monaco, however, would be better classified as being in beast mode: the back-to-school kids shoes are made from slick brushed fiber that's been debossed with stylish perforations, comes in one of five colors, and is brandished with practically no logos or branding.
If it moves and you don't want to lose it (i.e. your kid), track it with Ping. This device is smallest, longest-range, longest-battery GPS tracker in the world. Unlike Bluetooth trackers that only work within about 35 feet of your phone, Ping triangulates Bluetooth, cellular, and GPS data to pinpoint lost objects (and wayward kids) just about anywhere in the world. At about the size of an obese postage stamp, it can be stashed in a child's back pocket and they'll never know.
36. Robot Tin Lunch Box
Because kids aren't nearly as suspicious of robots (and their impending world domination) as adults, this food-grade tin box designed like a classic 'bot should be a huge hit in the cafeteria.
37. Skip Hop Panda Backpack
The beauty of Skip Hop's Zoo collection is that it includes a ridiculous number of animals ⏤ 27 to be exact. So if you're kid's weirdly got something against this adorable Panda back-to-school backpack with mesh sippy-cup pocket and insulated snack pouch, they can roll with a shark, chameleon, or leopard instead.
38. AKID Liv Despicable Me 3 Sneaker
At $80, it's safe to say you're probably paying as much for the kids shoes as you are for the movie licensing. That said, these comfy back-to-school AKIDs kicks bring the quality with a premium cotton canvas upper and a 100-percent, full-grain leather lining. Of course, all your kid needs to know is "The Minions' eyes glow!" and they'll be racing to the school bus.
Littlebits makes the original Lite-Brite toy look like a something out of the stone age. The kit is composed of small electronic blocks ⏤ each with a unique function ⏤ that magnetically connect to one another and can be "programmed" to work together in millions of ways. From messages and animations and sounds and movements, this high-tech construction set takes game-based coding and engineering to the next level. Start preparing the cover letters now for Apple, Facebook, and Google.
40. Insulated Camo Lunch Tote with Bento Box
Not only does this soft-shell tote feature a mesh water-bottle pocket and the oh-so-trendy bento box filled with five lunch containers, but its cool camouflage shark design is sure to appeal to future fashionistas and marine biologists alike.
41. KidKraft Rainbow Backpack
Here's what KidKraft's back-to-school backpack brings to the table: Two mesh pockets, an interior tablet sleeve, two zippered pockets, and a keychain hook on the outside. Not bad. Plus, it's rainbow graphic pattern sends a positive message — and is easy to spot on the afterschool pick-up line.
42. New Balance 520 Sneaker
Maybe it's that crisp "N" logo. Maybe it's the characteristic suede-mesh construction. New Balances have always stood out, even if they weren't always cool. These scaled-down back-to-school classics have a durable "hook and loop" closure and a flexible EVA midsole.
If your kid is an unabashed screen addict, it might be time to consider some high-tech parental control devices. One option is Unglue, an app that gives you the power to limit their online activity in a fair, transparent way. From Minecraft to Snapchat, YOU decide how long they get to spend online. Knowing the clock is ticking, kids are naturally more deliberate with their usage, and there's even a "chores and rewards" system to buy extra minutes. Admit it: You need this for yourself, too.
44. Spider-Man Lunch Box
For the Peter Parker fan who's still raving about Spider-Man: Homecoming, this back-to-school lunch box looks like Spidey's face ⏤ complete with eye puff graphics ⏤ and is insulated with a padded top handle. Plus, your kid can make all sorts of "It looks like I'm removing his brain!" jokes when taking out his sandwich.
45. Crocodile Creek Ice Packs
Just because a back-to-school lunch box is insulated doesn't mean that cheese snack won't still sweat. Ensure lunch stays cold by throwing in a couple of Crocodile Creek's playful ice packs, which are adorned with a multitude of kid-friendly graphics including planets, dinosaurs, and unicorns. Yeah, they're cool.