The Best Product I Bought During Quarantine, According to 12 Parents
From a crazy powerful blender to the "world's hardest puzzle" here are a dozen products that brought parents joy during the past six months.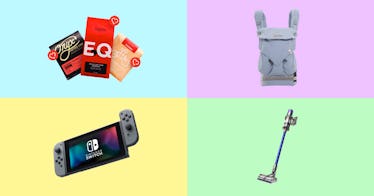 When the COVID-19 pandemic started six months ago, we all stocked up on essentials — hand sanitizer, bleach wipes, face masks, toilet paper, canned goods. Everything to help us handle the then-unknown threat. But soon after, when the severity and duration of the situation was made clear, we all started to purchase items to help make working at home, parenting at home, and everything else at home more manageable. Puzzles. Games. Toys. Cooking equipment. Workout gear. Home office supplies. Comfier places to park our rumps. This made us wonder: What items did parents purchase during the past six months that made their lives a bit easier, more productive, or more fun? So we asked a variety of moms and dads to share. Some of their purchases were functional, some frivolous. Some expensive, some economical. All have the potential to make you say, "Why don't I have one of those?" and maybe make your time at home a bit better. Take a look.
A Coffee Club Subscription
"I'm a bit of a coffee snob, and I figured quarantine was the perfect excuse to treat myself to some gourmet stuff. So, I joined a coffee of the month club. It's called Trade and it's been awesome so far. It's like a matchmaking service for coffee. Before the pandemic, I would always grab a cup of coffee as I was running out the door. Now that I'm working from home, I've got more time to actually sit and enjoy it, which helps me relax and get ready for the day. Plus, it absolutely beats the crappy coffee I used to have to drink at my office." – Jen, 33, Pennsylvania
The World's Hardest Puzzle
"About two months into quarantine we realized it was going to last for a while. So, our family bought a ridiculously impossible jigsaw puzzle. It took almost three months, but we finished it. It was a day-to-day thing. Whenever me, my wife, or our kids had a spare minute, we'd sit down and try to fit a few pieces. Some days we were on fire, some days we were lucky if we got a single one. I think there was a period of time when we all got irrationally angry at the puzzle for being so damn hard, but we powered through and got it done. It's still on the dining room table, and we're trying to figure out if we can get it framed. As frustrating as it was, I think it'll be a good memory of how we all go through this." – Aaron, 42, California
A Hanging Gravity Chair
"I've had the same outdoor lounge chair for like nine years. So, when I realized I'd be spending a lot of time at home, I splurged and bought a hanging gravity chair. I set it up on the back deck, and I sit in it every single day. Being stuck at home has given our family a lot of free time. Even though my wife and I both work, we get back that whole part of the day we used to spend commuting. So, sometimes in the morning I'll just go out and sit in it, chill out, and start the day totally refreshed. Same thing in the evening. That chair has become my happy place during all this madness." – Brian, 35, New York
A Nintendo Switch
"What better excuse than a quarantine to play video games? Even though they were super hard to find for a while, I was able to get a Switch for our family about three months ago, and we love it. Animal Crossing has been the big game for a while — especially for my wife — but we got into all of the multiplayer games too, which has been really fun as a family. For me, the best part has definitely been showing our sons all the classic NES and arcade games. Super Mario Kart is a huge favorite, and I'm proud to say that our boys can fire turtle shells with the best of them." – Jon, 37, Ohio
A Super Powered Vacuum
"When quarantine started, I decided that if I was going to spend almost every waking minute in my house, it was going to be spotless. Never in a million years did I think I'd spend $600 on a vacuum, but I ordered the Dyson V11, and it's been worth every penny. Our old vacuum cleaner was just pathetic. It smelled and it barely worked. It was time to put it down. I think being at home so much has made our family appreciate a clean house more than we used to. We weren't living in squalor, but the new vacuum has definitely made our quarantine home a much comfier place to be." – Lucy, 31, Michigan
A Blender That Does it All
"We started cooking a lot more since quarantine began, so we splurged on a blender. It's more like a Swiss Army Knife with all the stuff it can do. Our daughter's favorite thing to make is soup. The blender actually spins so fast that it heats the soup inside, which she thought was so cool. So, now she'll come up with these weird combinations of ingredients she wants to try to turn into soup. Not all are winners, but sweet potatoes and carrots — which she calls 'Orange Soup' — has become a staple in our house." – Katie, 30, Connecticut
A Peloton
"Yeah, we got one. I was pretty skeptical, but it's pretty sweet. The first month of our quarantine started off pretty lazy and unhealthy. My wife and I aren't gym rats, but we like to be active. And we were getting restless. So, we decided that a Peloton would be a good investment, because who knows how long this is going to last? The variety of workouts is perfect for dealing with the monotony of being at home so much. Plus, the live streaming classes actually make you feel like you're connecting with other human beings while you're quarantined at home." – Michael, 36, North Carolina
A New Mattress
"My husband and I have had the same mattress since before we got married. We hate it. It's a cheap, lumpy IKEA mattress that was okay at first, but hasn't really held up. So we used our tax refund to buy a Nectar for our bed, and one for our son's. These past few months have been incredibly stressful, so we figured that it was time to upgrade and try to relax as much as possible when we can. Our son loves his, too. He says it 'melts him to sleep.' Never underestimate the power of a good night's sleep during crazy times." – Ali, 33, Rhode Island
A Pair of Kids Tablets
"We got our daughters the kids' edition Amazon tablets. They're six and seven, and we used to just let them use our iPad to play games and watch videos. But, since my husband and I are working at home, we both need it pretty frequently. The tablets are great babysitters, to be honest. There's so much content that our workdays go relatively uninterrupted, and the content is a great mix of entertaining and educational. It's been really helpful bridging the gap between the closing of school last year, through the summer, and now into this year." – Alicia, 35, New Jersey
This Ergonomic Baby Carrier
"Our son was born shortly after quarantine began. My wife and I both knew that it was going to be a challenge, not being able to have anyone over to help or watch him if we needed it. So, we got a baby carrier because we needed to be able to have our hands free and carry our son from time to time. It made simple tasks really easy, and was actually really comfortable. My wife's back got pretty sore toward the end of the pregnancy, and she says that this carrier is barely noticeable when she's wearing it. Until the baby spits up or needs changed." – Paul, 29, Indiana
A Bunch of Cloth Diapers
"When the pandemic hit, we figured there would be a run on diapers. Everyone was hoarding toilet paper, so we connected the dots and decided that cloth diapers might be a good investment. We were able to find some pretty basic ones that were cheap, and most of them are still going. It's a little less convenient than being able to toss them in the trash, but what started out as a pandemic alternative has actually saved us a ton of money and trips to the store." – Sam, 36, Ohio
A Wi-Fi Mesh Router
"Our house is set up in a way that certain rooms are just dead zones for the Wi-Fi. During the pandemic, while we've had two of us working from home, and three kids doing virtual school, it was almost impossible to all be online at the same time. So, we got a Google Nest mesh router, which was supposed to cover our whole house, and it ended up being more than enough. I have no idea how routers and Wi-Fi actually work, and it's possible I just didn't know how to tweak our original setup, but I'm happy with the new one because of how effortlessly it worked for us." – Daniel, 36, California
This article was originally published on