The Only Baby Yoda Toy You Need Is on Sale for Prime Day
This is the way...to save money on a plush version of The Child.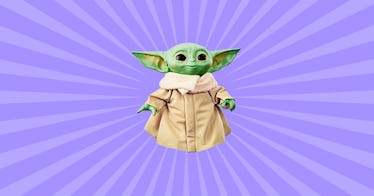 With the Season 2 premiere of The Mandalorian around the corner, Baby Yoda fever is about to come back in a big way. And while the need for secrecy meant there were no Baby Yoda toys when the show launched last year, there are a ton of options this time around. And wouldn't you know it, the best Baby Yoda doll is on sale today as part of Amazon's Prime Day festivities.
The plush toy from Hasbro is just 7.5 inches tall and 10 inches from ear to ear, which isn't that far from life-size, when you think about it. It has a molded plastic head with solid detailing: wrinkled texture, subtle color highlights in the ears, a tiny nose, and the massive eyes that make Baby Yoda so captivating.
The hands at the end of this Baby Yoda's poseable arms are also plastic, but the rest of the doll is a soft stuffed animal sheathed in a warm-looking collar and plain tan robe, an outfit that is faithful to what the little guy wears onscreen.
Kids can squeeze it to hear 10 different sound effects, which, if you've seen the show, you know are gurgles and chirps that sounds like they were engineered in a lab to be adorable (which they definitely were). This particular Baby Yoda also comes with a bone broth bowl and one of the Sorgan frogs that The Child gleefully wolfs down in the series.
Normally $24.99, this version of The Child is just $19.99 on Prime Day, and it's included in a promotion that can net you a $10 discount on $50 of select items. It's currently back-ordered, but only for a couple of days, so it should still arrive in time for the season premiere.
For more great deals, check out our Amazon Prime Day deals page.
Every product on Fatherly is independently selected by our editors, writers, and experts. If you click a link on our site and buy something, we may earn an affiliate commission.
This article was originally published on