We're Alright Alright Alright If Matthew McConaughey Takes Over The Yellowstone Spinoff
The sudden news of a new Yellowstone TV series means a lot of different things at once.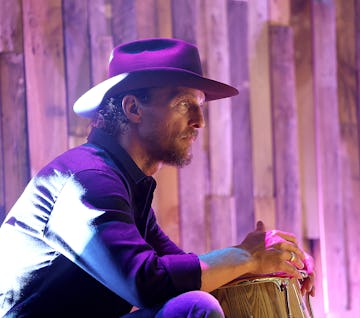 Gary Miller/WireImage/Getty Images
It's official. Yellowstone will ride off into the sunset with the upcoming second half of season five, which Paramount Network will drop in November. But fret not, Paramount Network also announced an untitled sequel that will continue the Dutton family saga, revealing that it will premiere in December on Paramount+. And, yes, it will be overseen by the lord of the Yellowstone universe, Taylor Sheridan, who's also given us 1883 and 1923. Here's what we know. Plus, why it's possibly great if Matthew McConaughey ends up taking the reins of the Dutton saga.
Official statement on the Yellowstone spinoff
"… I am confident our Yellowstone sequel will be another big hit, thanks to the brilliant creative mind of Taylor Sheridan and our incredible casts who bring these shows to life," Chris McCarthy, President & CEO Showtime/MTV Entertainment Studios, said in a statement. David Glasser, the Chief Executive Officer of 101 Studios, in that same statement, added, "The Dutton story continues, picking up where Yellowstone leaves off in another epic tale."
Those statements only hint at the intrigue that must be going on behind the scenes, and they set the stage for rumored issues to be dealt with head-on in the very, very near future. Let's break down what we know for certain and what we don't.
What Is the New Yellowstone Series?
A few months ago, industry trades including Deadline, Variety, and The Hollywood Reporter broke the news that Matthew McConaughey might be in active negotiations to head up a Yellowstone iteration. Is this new spinoff that rumored iteration? Quite likely. Can we be sure? No. Some people, in fact, thought the floating of McConaughey's name served as a very public pressure tactic to bring Yellowstone star and producer Kevin Costner back to the negotiating table, though that's a rumor too.
Whatever the plan, and assuming McConaughey closes a deal, the betting money suggests that McConaughey will join a number of Yellowstone actors who'll simply mosey on over to the sequel. It'd be alright, alright, alright with us if McConaughey — as a Dutton from somewhere on the family tree — tangled with Kelly Reilly's Beth, for example. In fact, the Yellowstone franchise has proven that part of the appeal of the series is its ability to make the Dutton family tree more intricate with each iteration. Yes, Costner made the show what it is, but 1923 also proved that we can root for all sorts of great actors in this saga — while also learning new things about how everyone fits in. If McConaughey does end up leading the contemporary Yellowstone sequel series, it might be exactly what the franchise needs.
Yellowstone Season 5B
Yellowstone exploded into a massive hit for Paramount Network and reinvigorated Costner's career. The show's success opened the door for him to realize a dream project, a multi-part Western feature called Horizon: An American Saga that he's starring in, co-writing, and directing. If the scuttlebutt is true, Costner only planned to make himself available for one week of work on the second half of Yellowstone's fifth season in order to concentrate on the films; the first half, dubbed 5A, concluded in January 2023. To be clear Horizon is a series of movies from Warner Bros, so it's not a streaming series at all.
Either way, all of this sparked talk about McConaughey. Costner's lawyer recently torpedoed the stories about the actor limiting his availability for 5B, but it remains to be seen how much fans will see of Costner and John Dutton in the closing episodes of Yellowstone. One possibility: John winds up in the Train Station, the place where the Duttons like to bury the bodies of their enemies.
The Wild Card
The announcements Yellowstone will end and a sequel will follow creates plenty of in-universe questions. But, interestingly, the news of the new series omits the current Writers Guild of America strike. Are the final episodes of Yellowstone and the first installments of the sequel already written? If not, and the writers' strike extends beyond a few weeks, how can Yellowstone Season 5B and the sequel be ready by November and December, respectively?
Buckle up, buckos, it's gonna be a bumpy ride!
Here's our guide for streaming every single Yellowstone series.
This article was originally published on