Yellowstone Could End At Season 5 — Unless Matthew McConaughey Takes Over?
Rumors suggest 'Yellowstone' could be getting a new star.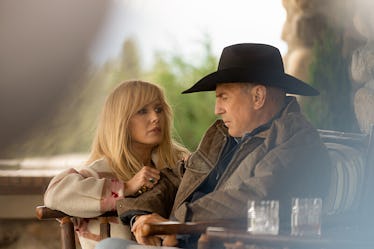 Paramount
John Dutton may ride off into the sunset – on a horse or perhaps in a coffin – far sooner than anyone dared expect. The news is more than a rumor but less than official. It broke on Monday that Yellowstone may end with the upcoming second half of season five due. The reason? Kevin Costner's shooting schedule. And if this all goes down, it may result in Matthew McConaughey saddling up and joining Taylor Sheridan's fast-expanding Yellowstone universe, which already includes the current prequel, 1923, and the recent prequel, 1883. Here's what we know.
Kevin Costner may leave Yellowstone
Yellowstone follows the modern-day exploits of Dutton family patriarch John (Costner), his loved ones, employees, allies, and enemies, with the fate of the sprawling, uber-valuable Yellowstone Dutton Ranch in Montana hanging in the balance. The blockbuster show is currently in the midst of its fifth season – and its longest one yet: 14 episodes. The first eight episodes have already dropped, among them the midseason finale, "A Knife and No Gun," which premiered on January 1. According to Deadline, a reputable source of breaking Hollywood news, Costner originally capped his Season 5 involvement at 65 days of shooting, adding that he sought to shoot for just 50 days for the first part of the current season. Now, Deadline reports, he only intends to work a week on the back six episodes, which apparently are not yet in production and are slated to air this summer.
Part of Costner's time crunch surely has to do with Horizon, a big-screen Western that he's directing, co-writing, co-producing, and starring in, with plans for it to spur three subsequent films (that might open in theaters or stream). According to the trade paper Variety, Costner intends to shoot the three follow-ups simultaneously starting this spring. Now, to be clear, there was never a guarantee of any kind that Yellowstone would continue beyond Season 5. However, if the reports are true, then the end of the show in its current form seems like a fait accompli, as does the greatly diminished involvement of its leading man in the last six episodes.
Will Matthew McConaughey join Yellowstone?
Taylor Sheridan and Paramount are seemingly wasting no time in preparing a contingency plan in the event Yellowstone concludes, as they're reported to be in negotiations with Matthew McConaughey, the Oscar-winning star of Dallas Buyers Club, whose many other credits include A Time to Kill, How to Lose a Guy in 10 Days, Magic Mike, True Detective, and The Gentlemen. Assuming that McConaughey signs on the dotted line, it will remain to be seen if any members of the Yellowstone ensemble – which includes Kelly Reilly, Luke Grimes, Wes Bentley, and Cole Hauser – would mosey on over to the new show.
The future of Yellowstone
At the moment, all of the above is theoretical. Could it be a very public negotiating tactic? Possibly. How close is McConaughey to toplining a show? No one knows. A Paramount Network spokesperson told Deadline the following: "We have no news to report. Kevin Costner is a big part of Yellowstone and we hope that's the case for a long time to come. Thanks to the brilliant mind of Taylor Sheridan, we are always working on franchise expansions of this incredible world he has built. Matthew McConaughey is a phenomenal talent with whom we'd love to partner."
Yellowstone streams on the Paramount Network, while both 1883 and 1923 call Paramount+ their home.