Yellowstone Spinoff 1923 Season 2 Is Coming: Here's Everything We Know
The finale of 1923 Season 1 will only set up Season 2...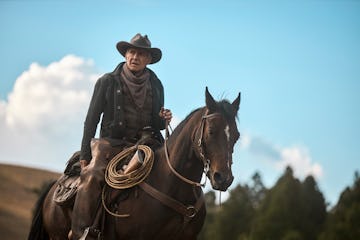 Paramount+
Saddle up! Paramount+ just renewed 1923 for a second season. It only makes sense, of course. Fans of the Yellowstone franchise immediately embraced the prequel series, which follows an earlier generation of the Dutton family and their travails in rural Montana. Series creator Taylor Sheridan not only crafted an engrossing prequel story, but he wrangled a stellar cast that includes Harrison Ford as Jacob Dutton, Helen Mirren as Clara Dutton, and many more. Flashbacks and younger versions of various characters — plus a few pointed namedrops — serve as the connective tissue between Yellowstone, 1923, and Sheridan's other prequel, 1883.
Here's what we know about 1923 Season 2, everything that's happened in Season 1 so far, and when to expect the finale this year. Spoilers ahead.
1923's Yellowstone timeline, explained
1923 unfolds during the Prohibition Era, and it's arguably darker than either Yellowstone or 1883. Ford (he's 80!) and Mirren (she's 77!) are sublime together, while Brandon Sklenar, Drew Mann, and especially Aminah Nieves seem to be the breakouts among the youthful talent. The show is different enough from Yellowstone and 1883, but still has the same compelling and original writing.
1923 Season 1 schedule
Paramount+ has split 1923 Season 1 into two halves, each consisting of four episodes. (Spoilers through Episode 4 incoming!)
Episode 4, "War and the Turquoise Tide," dropped on January 8, and imperiled pretty much everyone. Jacob, Jack, and Elizabeth were injured, and Elizabeth's father died. Creighton and Whitfield joined forces with the intention of taking down the Duttons, stealing their cattle, and plotting to wrestle away the rights to the minerals beneath their land. Meanwhile, Teonna – after much brutal abuse -- killed Sister Mary (Ehle) and fled, but Father Renaud (Sebastian Roche) is hot on her trail.
The second half of 1923's first season will kick off on Sunday, February 5 with "Ghost of Zebrina." According to a brief synopsis released by Paramount+, "Spencer and Alexandra begin their long journey back to Montana. Banner and Whitfield plot their next move to control the valley. Teonna goes to great lengths to secure her freedom and safety."
1923 Season 1 finale release date
After Episode 5, the final three episodes of 1923 Season 1 will begin streaming on Feb. 12, 19, and 26, all on Paramount+. That means the 26th is the big finale, which will naturally, set up the events of Season 2.
1923 Season 2 release date
As of this writing, there is no set release date for 1923 Season 2, but sometime in 2024 is a good bet.
Will Harrison Ford return in 1923 Season 2?
Right now, there's every reason to believe that both Harrison Ford and Helen Mirren will be back in 1923 Season 2.
1923 is streaming now on Paramount+.