Seinfeld's Day Of Nothing Lets Parents Share Timeless Humor With Kids
What's the deal with the new 'Seinfeld' book for kids?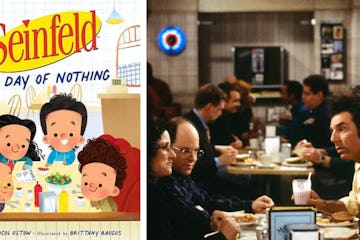 Hachette/NBC
We may receive a portion of sales if you purchase a product through a link in this article.
There's too much pressure on kids to do stuff. Have you seen this? What's the deal with kids being told to do a bunch of stuff? Isn't it okay for them to want to do nothing? For an entire generation of '90s kids, we learned that stories about nothing were valuable. Perhaps the greatest gift of the immortal sitcom Seinfeld isn't any of the catchphrases or classic episodes, but rather, the fact that it taught us all to embrace the mundane minutiae of our lives as valid and important. Seinfeld has always helped us keep the stakes low, and feel better about doing less. To this day, watching an old episode of Seinfeld can be a relaxing experience for parents, mostly because it's a dip into a universe we seldom get to experience, where lost wallets and specific kinds of soup were the biggest concerns in life.
And now, there's a way of sharing the accidental Zen minimalism of Seinfeld with your kids. Yes, although actual episodes of the classic show aren't quite right for kids ("The Contest" certainly went over our heads in 1992!) but much of the vibe of the humor is kinda perfect for kids. What are two things kids love doing? Answer: Doing nothing and complaining. All kids are Seinfeld characters, or in some ways, innocent versions of Seinfeld co-creator Larry David.
In their brilliant new picture book, Micol Ostow and Brittany Baugus capture the essence of Seinfeld but make it all perfect for kids. Think of it as a kind of Muppet Babies version of the Seinfeld characters. They're all kids, and they're all supposed to go see a new baby. A present has to be picked up, but nobody is really sure what to get, what to eat, and whether or not any of it is worth the time. Will they see the baby in the end? Who cares.
Jamming in at least twenty different plots from various Seinfeld episodes is just one part of what makes this book impressive. What's more revelatory is the idea this book finally reveals an age-old truth about why we love Jerry, George, Elaine, and Kramer so much — they're basically little kids. What is presented as mercurial and petty on the TV show is rendered as normal little-kid behavior in the pages of this kids' book. The difference between Jerry and bratty picture book perennial Eloise is that supposedly, one of them is an adult and one is a spoiled six-year-old. The Day of Nothing smartly closes that gap, and charmingly makes the Seinfeld gang seem exactly like your own eccentric kids.
Seinfeld: The Day of Nothing was clearly crafted with parents in mind. So often, we're shackled to re-reading picture books we loathe, or worse, picture books we used to like, but now hate because we've had to read them so many times. Because The Day of Nothing sprinkles in familiar jokes from the adult world, this picture book will create a nice respite from the norm.
And, for kids who feel like they're a bit off-kilter because they're moody, or just want to do nothing all day long, this non-adventure will be utterly validating in the most low-key way possible. On a basic level, the humor of Seinfeld works on wordplay and funny contradictions. The Book of Nothing knows this, which is why, it's actually, very much, a book of something.