What's The Deal With This?
25 Years After The Controversial Seinfeld Finale —Yada Yada Yada — Is A Reunion Happening??!
Jerry Seinfeld has just dropped a massive tease.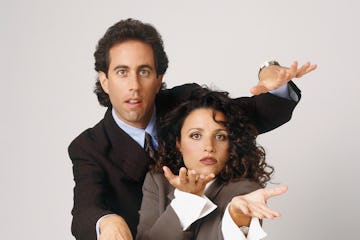 NBC/NBCUniversal/Getty Images
Seinfeld is one of the most enduring and beloved sitcoms of all time. But the 1998 finale episode? Not so much. Twenty-five years after the airing of the final Seinfeld episode, people still have very strong feelings about the controversial ending of the series in which all the characters end up in jail. I mean really, what's the deal with this ending? And will we ever find out what happened to George, Elaine, Jerry, and Kramer? Cautiously, the answer might be yes. Thanks to eyebrow-raising comments from Jerry Seinfeld, it seems possible that he and Seinfeld co-creator Larry David are working on something...that sounds pretty, pretty, pretty good.
While performing stand-up at the Wang Theatre in Boston on Saturday, October 8, Jerry Seinfeld bantered with audience members about the ending of Seinfeld back in 1998. Here's what Jerry said when an audience member asked him his thoughts on the finale:
"Well, I have a little secret for you about the ending. But I can't really tell it because it is a secret...Here's what I'll tell you, OK, but you can't tell anybody. Something is going to happen that has to do with that ending. Hasn't happened yet. And just what you are thinking about, Larry [David] and I have also been thinking about it. So you'll see. We'll see."
The clip of Seinfeld saying this was widely circulated on social media overnight. But, what could it mean? Larry David's metafictional series, Curb Your Enthusiasm is coming to an end with Season 12, which will air either in late 2023 or early 2024. (Curb Season 12 was thought to air sooner, but was delayed by both the SAG and WGA strikes.) So, is Jerry Seinfeld referring to that? Perhaps another pseudo-Seinfeld reunion in the Curb universe? It has precedent: back in 2009, in Season 7 of Curb Your Enthusiasm, Jason Alexander, Jerry Seinfeld, Julia Louis-Dreyfus, and Michael Richards reunited with Larry David for a series of episodes that depicted a fictional reunion of Seinfeld on TV.
While it's possible Curb could do something like that again, Seinfeld's comments feel more pointed, which is why many are speculating he's vaguely hinting at a true Seinfeld sequel, or perhaps even some kind of reboot. In any scenario, some kind of Seinfeld comeback to contemporary TV would be amazing. After all, we just heard that the funny store called, and they're running out of jokes.