What's The Deal With Fashion? Percival's Seinfeld Clothing Line Celebrates Style About Nothing
Relive the iconic sitcom's fashion moments with a modern twist.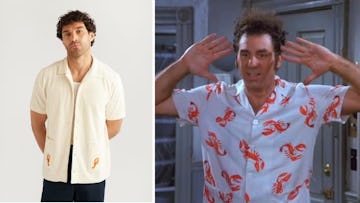 Percival/NBC
We may receive a portion of sales if you purchase a product through a link in this article.
Two and half decades after its last episode aired, Seinfeld continues to be a staple of popular culture. But the iconic show about nothing didn't just influence comedy, television, and our culture at large. It's also making a huge comeback in the world of men's fashion. That's right, the normcore stylings of Jerry, George, Kramer, Elaine, and even Newman in the 1990s are essentially the best bets for great style in 2023.
Get ready to relive the era of high-waisted jeans, bowling shirts, and unabashed 90's vibes, because menswear brand Percival has partnered with Warner Bros. Discovery Consumer Products and Bravado to present an awesome "Seinfeld" capsule collection. The exclusive collection features references fans of the show will appreciate and pays homage to the styles of the show's beloved characters.
"At Percival, we're all huge fans of Seinfeld and it has been an honor to work on these pieces," says Percival's founder Chris Gove who also stated his team dug into each episode to draw inspiration for the designs.
The collection remains wearable while embracing the nostalgia of the show's quintessential style. There are nods like the "Hello Newman" graphic T-shirt, and the "Serenity Now" graphic T-shirt immortalizing the vibe of George Constanza. There's also the surprisingly stylish "Puddy" knitted shirt that features 8-ball graphics referencing Patrick Warburton's David Puddy and his 8-ball jacket. Other pieces make more obscure references like the Hamptons Resort shirt with little lobster embroidery calling back to the hysterical season five episode "The Hamptons."
No mere novelty drop, the collection is well-designed and any of the pieces can easily be incorporated into your wardrobe. The 90's inspired capsule comes in modern proportions that won't leave you looking like you're wearing actual clothes from the 90s (not that that's always a bad thing). Many of the pieces are perfect for bumping up the summer style. There's something for fashion enthusiasts and Seinfeld fans alike. Below you'll find 5 of our favorite pieces from the release. The Percival Seinfeld collection is available in stores and online at Percivalclo.com.
Here are some of our favorites: