Julia Louis-Dreyfus Has No-Bullsh*t Advice On Her 36-Year-Marriage
Julia Louis-Dreyfus has a rare decades-plus long marriage under the Hollywood spotlight, celebrating her 36-year marriage by sharing no-bull advice.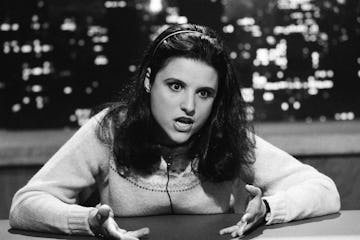 NBC/NBCUniversal/Getty Images
It's always impressive when a couple has been together for a really long time because it feels rare these days — even more so in Hollywood. Some celebrity couples have stood the test of time and broken away from the idea that living under the spotlight makes a relationship too challenging. And Julia Louis-Dreyfus is one of them. She's been married for 36 years and recently shared some no-nonsense, but ultimately hilariously unhelpful, marriage advice.
Louis-Dreyfus and her husband, Brad Hall, have been married for an impressive amount of time. The pair met at college, worked together on Saturday Night Live, and got married in 1987. They've been together ever since, weathered raising two kids together — 28-year-old Henry and 24-year-old Charlie — and supported each other through Louis-Dreyfus' cancer battle.
In a recent interview with Rolling Stone, where she was promoting a movie she's starring in, ironically, about marriage, You Hurt My Feelings, she was asked what she thinks the "secret to a healthy, lasting relationship – especially in showbiz" is, and her answer didn't dance around anything. Nor did it really provide any practical advice.
"I think there's an element of luck involved. You have to, in my case, marry the right guy," she shared. "People ask me this, and I don't really know what to say! I just really enjoy his company. I like to have life adventures with him, and I don't know what I'd do without him. I have no advice there, just good luck! That's my advice."
So, good luck to the rest of us, then, and if you wanted to know the secret sauce of what makes a very long marriage work — just, uh, pick the right person. Easy as pie!
Funnily, her marriage advice echoes what Kevin Bacon said about his 35-year marriage to fellow actor Kyra Sedgwick. At first, Bacon joked that he wasn't going to answer, but he eventually did, saying, "If I was to give some advice, I would say the one thing you don't want to do is take a celebrity's advice on how to stay married."