Harrison Ford's Answer To A Question About His Captain America Role Is F*cking Hilarious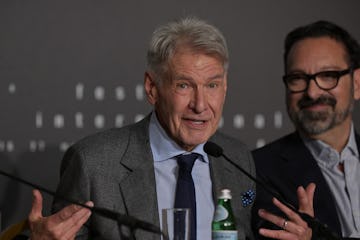 STEFANO RELLANDINI/AFP/Getty Images
When Indiana Jones and the Dial of Destiny hits theaters on June 30, it will be the last time ever that Harrison Ford dons the famous hat and picks up that iconic whip. But, arguably his next blockbuster project could be even bigger. Next year in May 2024, Ford will play the character of William Ross in Captain America: Brave New World. In previous Marvel movies, this character was played by the late William Hurt. But now, with Ford taking over the role, some Marvel fans and experts have been wondering if this casting would result in a very specific comic book storyline. There's just one catch. Harrison Ford has no clue what anyone is talking about.
In the history of Marvel comics, the character of William Ross eventually gets Hulk-like powers, resulting in an alter ego called "The Red Hulk." This is a big deal for Marvel fans, and here at Fatherly, we too got excited bout the prospect of Red Hulk Harrison when Ford's casting was announced in 2022.
So, the question is, will Harrison Ford become The Red Hulk in Captain America 4? While interviewing Ford and Phoebe Waller-Bridge, Jamie Jirak, of Comicbook.com, put that exact question to the man himself. His response? "What is a Red Hulk?"
Now, it's possible Ford does know and he was just messing around. During the same interview, he jokingly blames Waller-Bridge for withholding Red Hulk trivia saying "Why didn't you tell me?" And adds, "Well it may or may not happen."
Harrison Ford not really knowing or caring about the exact nitty-gritty details of the movies he's in a well-established tradition. In a joking exchange with George Lucas, in 1976, Ford said of the Star Wars dialogue: "George! You can type this sh*t, but you sure can't say it! Move your mouth when you're typing!" In 2019, during the press tour for The Rise of Skywalker, Ford said: "I don't know what f*cking Force ghost is."
Whether or not Harrison Ford knows about the Red Hulk in Captain America: Brave New World doesn't matter. We love him for saying this and will always love him even if he doesn't love Star Wars, Captain America, and Indiana Jones as much as we do.
Indiana Jones and the Dial of Destiny hits theaters on June 30, 2023. Captain America: Brave New World hits theaters on May 3, 2024. Here's the Fatherly guide to where to stream all the Indiana Jones movies right now.