Harrison Ford's Dadcore Button-Up And Tailored Jeans Are Owning Cannes 2023
IRL Indiana Jones is every cool dad, ever.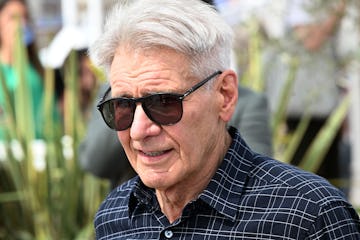 STEFANO RELLANDINI/AFP/Getty Images
We may receive a portion of sales if you purchase a product through a link in this article.
Do you hear that sound? It's either the sound of Indiana Jones' whip cracking...or maybe Harrison Ford stepping out in crisp jeans and a perfect crosshatch button-up dress shirt. At the 2023 Cannes Film Festival at Carlton Beach south of France, the 80-year-old icon posed for photos with his Indiana Jones and the Dial of Destiny cohorts; including director James Mangold, and actors Ethann Isidore, Boyd Holbrook, Phoebe Waller-Bridge and Mads Mikkelsen. As film festival looks go, Harrison Ford has gone super relatable with his latest outfit. Dude is so rad he doesn't even need a blazer. Adventure has a name and it's dadcore.
At the time of publication, we don't have the exact brands Ford has on here in hand, but many dads will recognize this kind of ensemble as both classic and understated in all the right ways. If you're a stylish dad you might even have something similar in your closet. It's a good reminder that you don't need to have a suit or a blazer to look good, you really just need clothes that fit.
Other than maybe the cool confidence of Phoebe Waller-Bridge, Ford looks the most relaxed and real here. Could we all be as legit down-to-earth as Harrison Ford? This dadcore outfit is an argument that dressing the part is half the battle.
In the upcoming movie, Phoebe Waller-Bridge is playing archaeologist Helena Shaw, and Indy's goddaughter. In this photo, Ford looks like a cool dad posing with his equally cool adult daughter. In other words, this photo is the definition of life goals for countless dads who were kids in the '80s and '90s.
So, how do you get this Harrison Ford look? Easily. What makes this outfit so great, is that most dads could easily recreate this with all sorts of men's brands standing. Here are some good bets for doing that right now.
The Button-Up
This great shirt from Hugh & Crye is a close match for Ford's Cannes look. Perfect for a Zoom meeting, or going to the movies looking like an absolute boss.
The Dark Jeans
Dark jeans that fit well are hard to find. We're not sure which brand Ford has on here, but we know they're slim cut and could bet they have a bit of stretch in them. Much like these slim bootcut jeans from Banana Republic.
The Black Boots
Let's face it, these shoes could be shoes worn by Indiana Jones himself. They're that useful and cool. Our best match for these is a military-style boot done as a dress shoe. Here's one we like from Rodd & Gunn.
The Sunglasses
Harrison Ford is known for his stylish but practical sunglasses — especially his aviators (he is, after all, a pilot). But these rounded Persols the stylish cherry on top of a dadcore outfit. Sometimes all it takes is a nice pair of shades to make an outfit pop.
Indiana Jones and the Dial of Destiny hits theaters on June 30, 2023. The first four movies hit Disney+ on May 31, 2023. Here's where to watch Indy online right now.
This article was originally published on