The Greatest Picture Books Of All Time, According To Authors, Illustrators — And Parents
Bedtime reading just got better.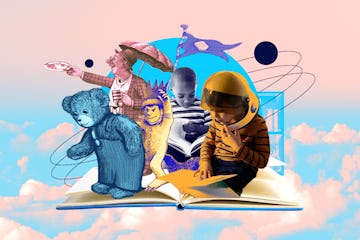 Lais Borges/Fatherly; Getty Images
Families want great things from children's picture books — our hopes run so high because the promise is so great: the memorable joy of a shared experience on the page, the stories that have the power to reshape how we see the world. But the intended audience for picture books is almost never the person making the purchase, which makes judging a picture book by its cover especially tricky. Parents and grandparents are left to search in the dark, making all kinds of assumptions as to what kinds of books kids will enjoy, and more often what they think kids should enjoy.
Truly great children's books succeed because they speak honestly and directly to children's experiences and imaginations. It's no easy feat, but when it's pulled off, the results are nothing short of magic. Think about classics like Where the Wild Things Are or The Snowy Day — stories that captivated you as a child and whose odd power doesn't wear off when you can pick them up again as an adult. This is how kids think and feel. Parents know because we were once kids. Kids just know.
Using that criteria, we've assembled 75 of the greatest children's picture books of all time, surveying our fellow editors and parents, and asking some of the most talented authors and illustrators working today — Adam Rubin (Dragons Love Tacos), Ron Barrett (Cloudy With a Chance of Meatballs), Jason Chin (Watercress), and Oge Mora (Thank You, Omu!) — to help us out by sharing their own favorites.
While this list isn't anywhere near exhaustive, it is authoritative: Every book on this list is worth adding to your kid's library (or checking out from your local library). Rather than ranking titles, we've presented them in alphabetical order, by title — there's no hierarchy of greatness here, just 75 essential, timeless tales for young kids.
This article was originally published on