5 Years Ago, Bluey Debuted, But Almost Wasn't The Show We Got
Other cartoons still have a lot of work to do to catch up with Bluey.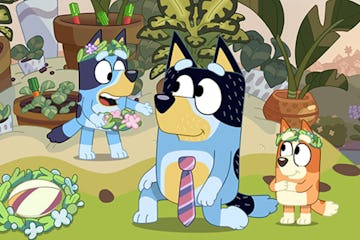 Disney/ ABC
Cute dogs have always been a popular choice for kids' entertainment, whether it be Puppy Dog Pals, Paw Patrol, or going back even further to Pound Puppies. Five years ago, the landscape for canine cartoons diverged from your average animated tale into something nobody expected. On October 1, 2018, Bluey debuted on the Australian Broadcasting Corporation with "Magic Xylophone," introducing the six-year-old Blue Heeler and her family to audiences for the first time. Immediately, the show skyrocketed in popularity, catching the attention of Disney who imported it to the U.S.
Three seasons later, it's not only one of the most streamed kids' shows around the globe, but even outranks some beloved adult dramas on streaming platforms. Funny, heartwarming, and sometimes incredibly emotional, Bluey's five-year journey to success was an unexpected one, but now it's hard to think of a world without it. Here's a brief history of how we got here, and why Bluey has utterly changed the game for kids' shows in a relatively short period of time.
What if Bluey had been...Red-y?
Bluey started out as a completely different concept, and one critical change altered the course of the cartoon forever. Growing up in Queensland, Australia, Bluey creator Joe Brumm's favorite pet dog was a Red Kelpie named Rusty. Early in the development process, this crimson character was the lead. As he continued to explore the designs, he found himself returning to another family pup that was meant to be a pal to Rusty, a Blue Heeler named Bluey. The more Joe drew her, the more he realized this was his true star. Rusty remained as one of Bluey's schoolmates, and still remains Joe's favorite member of the cast, with Bandit being "a close second."
The series is heavily inspired by Joe's experiences as a parent of two daughters and the role-playing games they enjoyed together when his girls were younger. Bluey is filled with imaginative episodes demonstrating that, whether it's a visit to the hospital to play doctors, or a ride on a bus with the Grannies. Mixed into the wholesome shenanigans are jokes only a parent could understand, never really in a risqué way but more of a nod to what it's like to be a parent.
"I want to make a show that people can watch as a family," Brumm explained three years ago to The Independent. "Something like The Simpsons did... I wanted something you could watch as an adult and also a four-year-old, which is quite a step – and it changes the nature of the show." That's what initially draws so many adults into the cartoon, but the more they watch, the more they discover how much of a gift this show truly can be for adults.
Bluey's big feelings
Episodes like "Sleepytime" or "Grandad" can make even the toughest person sob, cracking into our deepest emotions and concerns when we were kids, and tugging at our heartstrings even more as adults. The show addresses serious issues wrapped in allegories and metaphors that are so subtle and seamlessly woven into the show that parents catch on to them right away while kids remain oblivious. For example, "Onesies" introduces Chilli's sister, whose struggles with fertility are mirrored by Bluey's desire to have a costume she really wants but can't have. The plot may sound innocent, but you'd be hard-pressed to find any adult who isn't weeping before the short ends.
If you've never seen Bluey before, there's no time better than now to start. There are plenty of ways to watch it, even if you don't have Disney+. With over one billion minutes watched since it was first released, this cartoon is a staple for many households with or without kids. Six minutes is all it takes to understand firsthand why one Australian family of anthropomorphic dogs could take over the world in a way no other kids' show has. After three seasons and over 150 episodes, the show is planning a pause before moving on to its fourth season and beyond.
The business of Bluey is booming, and while the merch grows, the show's integrity is stronger than ever. Bluey's never specifically been about selling toys or video games or repeating the same messages your children hear in every other show on television. Bluey is a life-affirming show that makes your metaphorical tail wag, freeing your inner child while engaging your kid. It's something the whole family can be genuinely engaged in, setting the bar high for every kids' cartoon that comes next.
Bluey is available to stream in the US on Disney+.