Coolest Dads 2019: Virgil Abloh and the Age of Dad Fashion
These men are making sure that, if nothing else, the world we leave for our children will be beautiful.
by Fatherly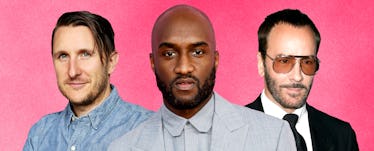 GETTY
Any parent who has watched a kid relish the look of a hand-me-down knows the profound power of design. Any parent that has ever saved a scribble thinking it showed promise knows the profound power of art. We share beauty with the people that we love so it feels only right that we should love the people most gifted at producing beauty, whether in the form of clothes, or art, or moments. The men on this list do just that and they do it exceptionally well and, strange as it may sound, exceptionally consistently. These aren't one-hit wonders. These are guys whose work is going to stay with us because it matters.
And it will stay with our kids, too. Whatever sort of world we leave our kids, let's make sure it's beautiful.
Virgil Abloh
Cool Dad Job: Fashion God
Latest Cool Dad Achievement: Taking time off from fashion domination.
Abloh, the son of Ghanaian parents, grew up in Chicago and first met Kanye West while interning at Fendi in Rome in 2009. The two have been inseparable ever since. At first, that helped Abloh bring his Off-White brand into the mainstream, but as Abloh's star rose (skyrocketed, really), the relationship became a bit less patron-and-artist and a bit more peers. After becoming a household name, Abloh took over at Louis Vuitton and promptly gave the brand a star-studded reboot. That he did this while also working with everyone from Jenny Holzer, IKEA, and Takashi Murakami made it all the more impressive. But Abloh isn't just a workhorse. He's a man who makes time for his family. Abloh recently took time off to be with his wife, Sharon, his 7-year-old daughter, Lowe, and 3-year-old son, Grey.
Aaron Huey
Cool Dad Job: Shutterbug
Latest Cool Dad Achievement: A new documentary project, Shelter, chronicling homelessness in America.
Before Huey had a kid named Hawkeye, a dog named Suki, and a wife named Kristin, before he racked up a laundry list of awards, he burst on the scene with a series of photographs taken over the course of a 3,349-mile trek across the U.S. with his dog. Fast forward and Huey is shooting for National Geographic in the Himalayas, on the Pine Ridge Reservation, and in Afghanistan. Cut to the present and his photography has transformed into domestic activism. A clear-eyed documenter of American experience, Huey's vision can be alarming. But that's how it goes with truth.
Scott Campbell
Cool Dad Job: Tattoo Artist
Latest Cool Dad Achievement: Convincing strangers to let him do what he wants to their bodies with the Whole Glory project.
A New Orleans native, Campbell, 42, was raised in a conservative Southern Baptist family, but yearned for something different. So he moved to New York, opened up Saved Tattoo, and gave Heath Ledger a tat of a bird. Today, he lives in Los Angeles with wife, Lake Bell, and two children, and inks the stars (Howard Stern, Robert Downey Jr.). The rest of the time he's convincing strangers to put their hands through a hole and let him do his worst, which is pretty damn good. He's a rebel, sure, but not a punk. Campbell is an outspoken feminist and father. "I improve myself for my children in ways I wouldn't do for me," he says. "Seeing myself through their eyes — it pushes me to do more and be more for them."
KAWS
Cool Dad Job: Art Star
Latest Cool Dad Achievement: Taming the hypebeasts.
Brian Donnelly picked the name KAWS as a nom de graffiti based solely on the loveliness of the letters together. And like all of his other projects, it just kind of works. Famous for his dead-eyed cartoon characters, KAWS is the man behind the must-have collaborations of the moment, notably that covetable Uniqlo x Sesame Street drop responsible for all those cool Elmo shirts you've been seeing on the street. This year he also floated his massive Companion Creature (think a dead Mickey Mouse) into Hong Kong's Victoria Harbor and sold a painting for $14.7 million. Things are, in short, going well. And they seem to be going well at home, too. The New Jersey native lives in Brooklyn with his wife, sculptor Joan Chiang, and two daughters, Sunny and Lee.
Tom Ford
Cool Dad Job: Fashion Rasputin, Hollywood Conundrum
Latest Cool Dad Achievement: Launching Tom Ford Research, a skin-care line for women who aren't fucking around.
Justin Timberlake can run his mouth as much as he likes. Tom Ford brought sexy back one suit at a time, and then, as though he hadn't done enough to make the world Gucci, doubled down by going Hollywood and screwing with our minds. What makes Ford so impressive is not his facility with, well, everything, but his ability to efficiently and entirely realize an idea. His first movie was nominated for an Oscar. Now, his first skin-care line looks destined to become a staple among those with enough money to invest aggressively in their epidermis. What is Ford going to do next? Hard to say, but his family will be a big part of it. In 2012, Ford and his partner, Richard Buckley, welcomed their son, Jack Alexander.