This Huge LEGO James Bond 007 Aston-Martin Is Positively Shocking
Ejector seat? You must be joking!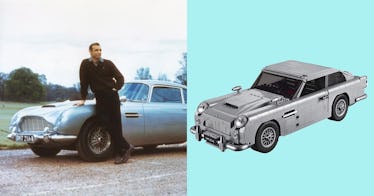 Getty/LEGO
Sean Connery only drove the Aston-Martin DB5 in two James Bond movies — Goldfinger and Thunderball — but after those showstopping appearances, the silver '60s sportscar became a permanent James Bond Easter egg. Excluding Quantum of Solace, the car has appeared in every single Daniel Craig Bond movie, including the upcoming film No Time to Die. The DB5 also cameoed in On Her Majesty's Secret Service, GoldenEye, Tomorrow Never Dies and The World Is Not Enough.
In real life, there were four custom-made Aston Martin DB5s used in Goldfinger. But, bizarrely, one of these four cars was stolen from a collector in 1997 and remains missing to this day. To make matters more like a real-life Bond heist, the car was stolen right alongside other priceless cars, including a roadster owned by Amelia Earhart, indicating that whoever was behind the theft only wanted the Bond car. Theories about the car's real whereabouts range from an inside job to collect insurance money to the idea that the car might have been sunk to the bottom of the Atlantic ocean. Really!
But since, most of us can't afford a real Aston Martin DB5, nor can we track down the missing one from 1963, Lego has released the next best thing. As of right now, there's a brand-new James Bond Aston Martin DB5 from the advanced "Lego Creator Expert" line.
The Creator Expert line of Legos is intended for ages above 14-years-old, meaning these sets are intentionally complex and difficult to put together. The result is a Lego version of this smooth Bond car that is just over 13″ inches long and 3″ inches high. Basically, it's big.
Snag one right now before Bond villains hatch a scheme to buy all of them up, or like one of the real DB5s, it goes missing.