Want to Stop Family Fights? Get Your Kids Outside and Hiking
When we're hiking -- even when I'm forcing the issue -- we act like the tribe we are.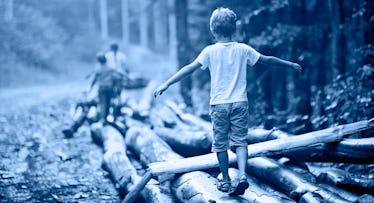 My family stepped off the asphalt parking lot onto the mannered meadow trail. The hip-high grasses, winter brown, enveloped us and bent slightly in the drizzle-filled breeze. Birds wheeled in anticipation of a spring that seemed slow in arriving and my 7-year-old son immediately started complaining about the cold. His face was scrunched up in a pained scowl. He shuffled as if he were days into a forced march though we'd only gone two yards.
"Will you carry me?" he asked his mother, who laughed and shook her head.
This was the first hike in an effort to fill a week with intentional outdoor walks in order to see how it would affect the behavior of my children. I was hoping that they would somehow become calm woodland gurus — a couple little Ralph Waldo Emersons ready to elegize woodsy walks in soulful elementary essays. But it was starting off poorly. My boys were still operating under the false impressions that there is such a thing as bad weather. There isn't, but they were unconvinced.
Earlier, I'd disregarded my own internal warnings about inclemency, which was good in the sense that I maintained momentum and got everyone outside, but bad in the sense that we were not all appropriately dressed.
On the plus side, my 5-year-old was happy. Without complaint, he stomped through mud puddles and collected rocks from the trail. They seemed to me like random gravel but were apparently precious treasures meant for the dark secrecy of his coat pockets. The only thing he wasn't enjoying was his brother, who complained to the point of practically howling, causing alarmed looks to flash across the faces of passing runners. Determined to persevere, we gutted out the remainder of the hike, piling the kids back into the car 45 minutes later — one heavier for the rocks crammed in his pocket and the other with tear-streaked cheeks.
That night, they fell asleep in minutes, which is not a thing that generally happens.
Two hikes later, things started shifting. On one hike, we kept to a neighborhood trail carved through the feral woods between quiet streets. On the familiar ground and in good weather, everyone's attitude improved. My older son claimed he was a naturalist (he's not, but the vocab impressed me) guiding us through the wilds. He was full of surprises. He stopped at a fallen tree, pointing out deep meandering groves in the wood and told me about the Japanese Longhorn Beetle.
"They are invaders and they came here on boats that carried wood," he said confidently. Despite the nativist political undertones, I was impressed. I did not know he had these kinds of facts at his command because, well, we hadn't taken a lot of hikes before.
Encouraged, I went bigger with it. On the seventh day, we were not going to rest. The weather was gorgeous and it only took some gentle prodding to get the children out the door. For our last trek of the week, I'd chosen a long hike to a local natural wonder — a canyon weirdly called "Ansel's Cave" carved into the dark Ohio limestone. It was a two-mile trek round-trip.
The boys hit the trail running. The 7-year-old pretended to hunt Pokemon. The 5-year-old called after him, worried he'd get lost. We chatted easily as we hiked. We observed the behavior of the trees and the sounds of the woods. I wondered aloud about things we saw. And the boys guessed at answers, sometimes right, sometimes wrong, and sometimes surprising in their insight. At one point, while talking about how trees communicate with each other through a network of fungus, the older boy piped-in, "And in exchange they give the fungus some of the sugar they make." That was dead-on correct. Impressive stuff.
After gawking briefly at the "cave" we started on the back leg of the trail. Aware they were heading back to the car the boys slowed and complained. They were deep into the hike and didn't want it to end. The trail became muddy. We tramped through a pine grove singing and laughing.
By the time we were on the road, the youngest had slipped into a deep sleep. He couldn't even be roused for a fast food dinner. When we got home we carried him to bed and he didn't wake up until morning.
At the end of our week of treks, there were no grand changes in my boys. They slept a bit more soundly, but they were generally great and not great in the same ways. But that's not to say that something subtle didn't happen. In the house, we're most often a people in conflict. The brothers fight with each other or agitate against authority. We put them in timeouts. They whine about dinner and television. We scold them for not listening or being too slow to brush their teeth. But, first hike aside, we were a peaceful bunch when surrounded by nature. We spoke to one another with civility and praised each other's curiosity and insight.
In the woods, we never scolded. We were never prescriptive. We never disciplined. The boys looked after one another. Even after the 5-year-old took a rough header on the trail, the tears dried easily and far more quickly than they would have at home.
What I learned over a week of hikes is that I want the version of my family that tramps through the woods to exist within the confines of our home. I did not, I should add, learn how to accomplish this. I only learned that there is another way.
I do, of course, have some theories as to how to pursue this grand goal. The first of which has to do with group exertion. When we get tired together, we stop using each other as physical and emotional exercise equipment. When we get tired together outside, we remember that we are a small band and that we're not even a little bit constrained to our home. We exist in a big (and frequently damp) world and, if we're to survive, we're going to need to get along and listen to each other. There is something very dark about this theory, but also very encouraging.
In acknowledging the massiveness and intricacy of the world, we reflexively band together to overcome what can seem like mounting odds. Maybe with each successive hike, we grow more accustomed to relying on each other. Maybe we learn to trust each other in a new way. Maybe we bring the woods back indoors, little by little, like a collection of loose stones in our pockets.
This article was originally published on