The Baddest Bear In the Duffle Coat Is Here to Save Christmas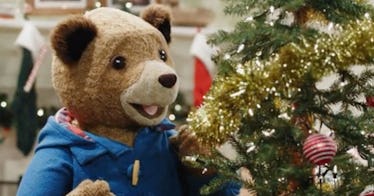 MarqueeTV
Cancel whatever plans you had this weekend and get ready for a holiday helping of everyone's favorite marmalade-loving bear. That's right, Paddington is back to bring some joy to the world with a brand new special called Paddington Saves Christmas. Here's everything you need to know.
Saves Christmas was inspired by the popular stage production Paddington Gets in a Jam and centers on Paddington helping out his crotchety neighbor, who is nervous about being prepared for a special visitor who is coming over. The incredibly polite bear offers to lend a hand but in classic Paddington fashion, hilarious hijinks ensue.
Unlike the Oscar-worthy films, this special features Paddington as a puppet but don't worry, he's still got the same kind heart that has made him such a beloved cultural institution.
"It was such a thrill to bring Paddington to the stage and see the joy it brought to so many people," creator and director Jonathan Rockefeller said. "After the year we have all had, I am elated to bring this celebrated bear to audiences in a way they have never experienced him before. Paddington Saves Christmas is the perfect way to celebrate this holiday season."
So how do you watch Paddington Saves Christmas? It will be streaming on Marquee TV starting on December 3 all the way through January 4, 2022. You can purchase a "ticket" for $9.99, which will also give you a seven-day free trial and 50 percent off an annual subscription to Marquee TV.
After you get your fill of Paddington puppetry fun, you can start counting down the days until the highly-anticipated Paddington 3 finally makes it to theaters. The confirmed threequel is slated to begin filming next year and, sadly, this means that the third Paddington film likely won't reach theaters until 2023. But that just gives us all plenty of time to rewatch the first two and Paddington Saves Christmas before it comes out.