These Are the Most Popular Kids' Shows in America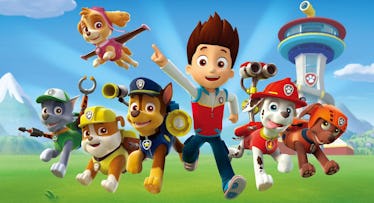 Viacom CBS
Thanks to the proliferation of cable channels and streaming services, there are more kids' TV shows around today than ever before. Long gone are the days when Sesame Street and Mister Rogers' Neighborhood were the most popular kids' shows on TV simply because they were the only kids' shows on TV. Don't get us wrong—those PBS classics are still popular kids' shows—but there's a lot more competition nowadays for kids who've outgrown the best TV shows for toddlers.
With so many more options today—the selection of kids' shows on Netflix alone would take days of marathon viewing to get through— what kids are actually watching is a more difficult question. To help parents keep up with their kids, we put together a list of the most popular kids' cartoons and live-action shows right now, the titles you'll be hearing about whether you like it or not. We've included which subscription-based streaming services you can find them on along with the channel-based websites you can log into with your TV provider credentials (i.e. without any extra charges for subscribers). They're also often available to rent or purchase from online video stores like iTunes, Google Play, and Amazon Video.
Editor's note: This list was compiled using data from Parrot Analytics, Google Trends, and independent research. It is changing and evolving.
PAW Patrol
A group of super talented canines running around Canada solving problems? What's not to like? A lot actually, but that's not the point. The faster you make peace with these kids' cartoon characters and their adventures, the better.
Available to stream on CBS All Access and Nick Jr.
SpongeBob Squarepants
Entering its third decade, this nautical nonsense is as popular as ever. Multiple generations of kids have now grown up with the silly tales of a sea sponge who works as a fry cook, and they're better for it.
Available to stream on Paramount+ and Nick.
Sesame Street
Sesame Street may have sold its soul to HBO and Apple TV+, but that doesn't mean we don't still love Big Bird. Even if the show isn't quite like what it was — and has waaaay too much Elmo — that doesn't mean it's not still sweet. This one, you can sit through, and yes, children still like muppets as much as you did.
Available to stream on HBO Max and PBS Kids.
Peppa Pig
Peppa Pig might perpetuate terrible parental stereotypes (Daddy Pig is pretty much a full-on idiot) but, overall, the show isn't negative. For the most part, Peppa herself is an upbeat character who doesn't really let shit get her down. Her little brother George wines a lot, but it's not that bad. Sometimes, occasionally, the dry British wit works. (Pro tip: Try to pretend like the narrator is Michael Caine. It makes the whole thing way better.)
Available to stream on Paramount+ and Nick Jr.
Steven Universe
This Cartoon Network stalwart has been hanging around on lists like this for a long time. You probably haven't really thought about it too much, but because the series is about a guy who hangs out with talking crystal gems who shape-shift, the show has sort of limitless potential to make all kinds of kids happy. Don't call it a gem just because there are talking gems, but … oh … well … you get it.
Available to stream on Hulu, HBO Max, and Cartoon Network.
Tumble Leaf
There's not enough stop motion animation out there, which is why this title is such a welcome presence. It features a blue fox and his caterpillar friend teaching basic science concepts to kids in the grand tradition of Magic School Bus and 321 Contact. Also, unlike a lot of kids TV characters, Fig and Maple don't complain constantly, but instead, say "Let me figure this out." It's impossible to always turn a bendy straw into a means of transportation via swamp bubbles, but hey, this isn't the worst way to think about the world.
Available to stream on Amazon Prime Video.
Pete the Cat
Every day is an adventure for Pete the Cat, and each episode documents a journey of self-discovery. It's also the only kids' TV show with original music from Diana Krall and Elvis freakin' Costello, who also star as Pete's parents. Again. The music does not suck, which is certainly the exception for kids' TV shows. The series is based on a series of children's picture books of the same name, but honestly, the books have nothing in common with the show. Funny thing: Children don't seem to mind the canonical inconsistency between the books and the show. They seem to like both!
Available to stream on Amazon Prime Video.
This article was originally published on