How to Stream Classic 'Looney Tunes' Online Right Now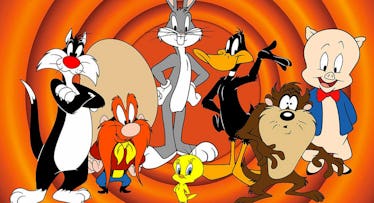 Flickr / BagoGames
The animated anarchy of Looney Tunes hit the mid-twentieth century like one of those falling anvils dropped by the Coyote on the Roadrunner. And it's showing zero signs of slowing down in the 21st century either. We're just a month away from the Toon Squad's return in Space Jam: A New Legacy!
Throughout the 1930s and 60s, the Warner Bros Entertainment Company produced one animated nugget of comedy gold after the other, introducing us to a cast full of icons. From Bugs Bunny — the slick rabbit that could smooth talk his way out of — to Daffy Duck, the despicable duck who'd find a way to talk his way into death, the characters are memorable mostly because they are so outrageous. But where can you watch the vintage adventures of Porky Pig, Pepe Le Pew, Wile E. Coyote, Road Runner, and, the biggest badass of the bunch, Tweety Bird?
If you do a cursory look online, you might only see the newer stuff — specifically on HBO Max. So where can you find the older, classic stuff? Here are two places online to watch classic Looney Tunes; one that costs a little bit of money and one that is HBO Max.
Boomerang
With a Boomerang subscription of $5 a month, you and your kids can watch a library of classic Looney Tunes episodes from the original series, going all the way back to the original Bugs Bunny short. Boomerang's layout is kid-friendly too, so kids can log in and see some of your favorite picks of the original show. The nice thing about Boomerang is that it groups the Looney Tunes by character. So, you can just watch a selection of Daffy Duck episodes or only limit your kid to Sylvester and Tweety. Honestly, for younger kids, this is probably the best way to go. That said, watch out for that autoplay feature. Some of the older episodes feature Sylvester meeting Satan in Hell. The episode is called "Satan's Waiting," so you've kind of been warned, but still.
Get a huge chunk of old Looney Tunes on Boomerang.
HBO Max
Rapidly, HBO Max is becoming an essential streaming service not just for adults, but for families, too. Now that HBO Max will debut a ton of Warner Bros theatrical movies directly to streaming in 2021, it feels like you probably want to just pony up the $15 bucks a month and pay for it. HBO max is kind of like when you really wanted HBO as a kid, but streaming.
HBO Max also has all of the old Looney Tunes canon. This can feel fairly overwhelming, simply because unlike Boomerang, it doesn't group this stuff by specific animated creatures. Some of the very old black and white episodes in "Season 1," also don't feature any of the characters you know and love. And yet, there's a completist element here that Boomerang lacks. This hasn't been curated, which makes it even more unwieldy and bizarre than you remembered. But, in fairness, the words "unwieldy" and "bizarre" kind of perfectly describe Looney Tunes anyway.
Here are all of the classic Looney Tunes on HBO Max.
The next official Looney Tunes movie is a new Space Jam movie coming to HBO Max in 2021. There's also a brand-new Looney Tunes Christmas Special, also on HBO Max.