Fantastic Beasts' Most Lovable Muggle Tells Us His Best Dad Joke
Dan Fogler has a FANTASTIC pun to use on your kids right now.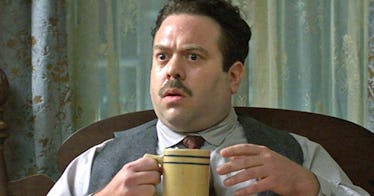 Credit: Warner Bros
The third installment of the Harry Potter prequel film series — Fantastic Beasts: The Secrets of Dumbledore — dives deep into the past of Professor Albus Dumbledore (Jude Law) and his war against the evil rogue magician Grindelwald (Mads Mikkelsen) all set in the 1930s of the Wizarding World. It's a tense film, full of a lot of danger and drama. But, it also has Dan Fogler back as Jacob Kowalski, the loveable muggle who is basically the unabashed comic relief of the series.
Fatherly caught up with Dan Fogler ahead of the release of The Secrets of Dumbledore and spoke at length about the film, not to mention his other wonderful projects, including the upcoming series all about the making of The Godfather; The Offer. But, as is our new tradition, we also wanted to have Dan Fogler tell us his best, corniest Dad Joke. He didn't disappoint.
Q: What did the dad say when it was time for breakfast?
A: I'm very EGG-cited!
The Secrets of Dumbledore is out in theaters now.