'Falcon and Winter Soldier' Episodes Are Different Than 'WandaVision' In 1 Huge Way
Don't expect these two Marvel shows to be remotely similar.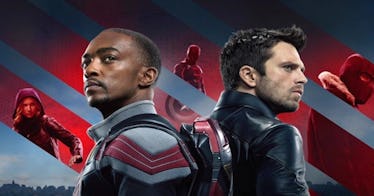 Credit: Disney+
If you're still reeling from WandaVision, don't expect to look for answers to your questions in the next big Marvel series — The Falcon and the Winter Soldier. In fact, don't expect The Falcon and the Winter Soldier to be anything like the Marvel Disney+ show that preceded it. Yes, Wanda, Bucky, and Sam may have all stood together during Tony Stark's funeral at the end of Avengers: Endgame, but the series focusing on Sam and Bucky will likely be the total opposite of WandaWision in nearly every way.
But then again, you probably knew that. The trailers for WandaVision was all about a surreal spin on old sitcoms. The trailer for Falcon and Winter Soldier looks like a James Bond movie meets a Fast and Furious movie meets, well, the Marvel Cinematic Universe. (Do we really have to keep calling it that when it's now mostly on TV. ANYWAY.)
Still, in terms of your TV time management, the biggest real difference between WandaVision and The Falcon and the Winter Soldier isn't just the style, tone, and inclusion of totally different superheroes. Instead, it's all about length. WandaVision was nine episodes long, but The Falcon and the Winter Soldier is only six. Just like WandaVision, this series isn't expected to have a second season, so consider these upcoming six episodes like an extended Marvel movie starring these two guys.
Here's when all the episodes hit Disney+. (Keep in mind that the episodes all drop at 3:00 AM on Fridays starting on March 19, so that means Thursday "night.")
Episode 1: March 19
Episode 2: March 26
Episode 3: April 2
Episode 4: April 9
Episode 5 April 16
Episode 6: April 23
The expected runtime of each episode is 40 to 50 minutes.
WandaVision, Falcon and Winter Soldier, and eventually, Loki (June 11) all stream on Disney+
This article was originally published on