Adam Sandler's New Netflix Special Is Full of Dad Jokes, Real Sentiment
Sandler's new standup special proves that, when you're a dad, they're (still) all gonna laugh at you. Just for different things.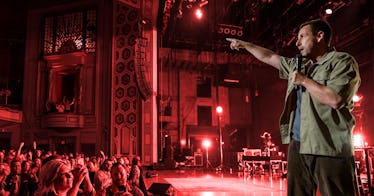 Netflix
Less than two minutes into his new stand up comedy special, Adam Sandler 100% Fresh, Adam Sandler sings a song called "Daddy Shaved His Beard Today." The song, strummed simply in classic Sandler style, made me laugh as much as it embarrassed me. It made me laugh because it was silly. It embarrassed me because I saw myself in it and because, well, I was laughing at a dope-y Sandler joke. "Every time my father shaved his beard, it was the only time we saw him look vulnerable," is the closest thing this bit has to a punchline. But it works. Yes, Sandler is older now. Whether or not he is wiser is debatable.
With Adam Sandler 100% Fresh, the guy you sort of liked in the '90s is back, and his jokes still oscillate between brilliant and cringeworthy. For men born in the eighties and who grew up in the nineties, watching Sandler's new standup special is like having a drink with that guy you knew in high school only because he happens to be in town and you're the only person he knows in this new city where you happen to live. You weren't best friends with this guy, but it's nice to check-in with what another man thinks about being older. We're not really watching Adam Sandler's new standup special to see what great new stuff he's come up with since the halcyon days of singing songs about red-hooded sweatshirts and piece of shit cars. Instead, we're just sort of trying to see how we stack-up against his perceptions about middle age and fatherhood.
Twenty years ago Sandler's humor worked because we were all teenagers, and now it still works because many of us are married with children. And his best new material focuses on these factors. A bit about Disneyland exemplifies this. It goes like this: When Sandler's wife and two kids all decide to sit together on a three-person rollercoaster, Sander opts to take the next car with another father — a stranger — who was also left alone because his wife and kids went on ahead of him. This routine is either one of the best insights into male bonding I've seen in years or the saddest. When Sandler is riding next to his new, temporary dad-friend, he says "I haven't been this happy in 11 years!" Which is funny, because it hurts.
Why is it so hard to make male friends at this stage in life? Why do dads so often feel alienated from their "real" personalities, unless they are yucking it up with other dudes? Sandler isn't a shrink or a marriage counselor, so he's not going to tell you. He's just a cipher for us; a generalized idea of what family-life male angst looks like in 2018. If this new comedy special is a comeback, it's the low-key kind, a small victory, like remembering to pick up milk when your wife totally expected you to come home empty-handed. Which is why his new song "Phone. Wallet. Keys" is great: it highlights how men want to be seen as doers, but also that we crave having some alone time where we sit on the toilet messing with our phones.
What time period defines peak Adam Sandler? For those of us born in the '90s, the answer is unswervingly 1993-1996. In this short three-year epoch, Sandler starred in his two most popular films, Billy Madison and Happy Gilmore. But, more importantly for edgy 14-year-olds, he released his first comedy album, They're All Gonna Laugh At You!, which was so on-brand you could hear his voice in the title.
Since then, Sandler projects range from excellent (Punch Drunk Love, Funny People) to insultingly bad (Jack and Jill, Blended.) Thinking about this spectrum, the new comedy special does live up to its title insofar as it feels somewhat fresh. Combined with his excellent turn in last year's new Noah Baumbach film The Meyerowitz Stories (in which he played a father) the new Sandler isn't trying as hard to be funny. Yes, he still does "funny" voices. Yes, he still sings about growing up Jewish ("Bar Mitzvah Boy" will make a lot of old-school fans happy.) But that's not the bread and butter anymore.
Overwhelmingly, the best moments are in-between the jokes, watching Sandler get ready for the next bit. Most of us will never really know who Adam Sandler is, not really. Which is why there's a certain magic dignity in watching this proxy of our younger selves shuffle around the stage and tell what can only be called "dad jokes." In between the bits and the songs, as Sandler looks down at the stage, men can see someone they recognize. That's us up on stage, doing our thing, telling our stories. Daddy has to go to work. Here he is, trying to be funny.
Adam Sandler: 100 % Fresh is streaming on Netflix now.
This article was originally published on