This Lovely Baby Girl Name Is "Blooming" Up All Over The Place
In Vermont, one floral-inspired baby girl name is rising in popularity — surprise, it's not Lily!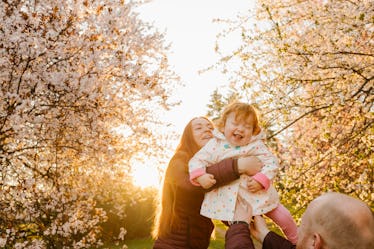 Westend61/Westend61/Getty Images
What's the perfect baby name? Is it classic, like Elizabeth or Elijah? Or unique, like Wilder or Perla? Whether you choose a gender-neutral name, a name that's been tried and true, or a unique and trendy name, selecting a baby name is a very personal decision. Some parents love unique names that stand out, while others opt for a name that holds a particular meaning or is inspired by something specific — like nature. In Vermont, nature certainly seems to be an inspiration. One floral-inspired baby girl name is rising in popularity in the state — and surprise, it's not the classic "Lily."
The U.S. Social Security Administration (SSA), which tracks the most frequent names for male and female births each year, tallied the most popular baby names in Vermont in 2022, and there was one floral name for girls that stood out.
The top three most popular baby girl names in Vermont — Amelia, Charlotte, and Evelyn — and even the fifth most popular, Harper, aren't surprising. They're uber-popular across the country, after all, and are among the top baby names nationwide.
But the fourth most popular girl name in the state — Violet — stands out. For one, it's the 20th most popular baby girl name nationwide — a far cry from names like Charlotte and Emma.
"Violet" is a name that is rooted in nature and color. The name Violet is of Latin origin and means "purple," according to Nameberry. "Violet is soft and sweet but far from shrinking. The Victorian Violet, one of the prettiest of the color and flower names, was chosen by high-profile parents Jennifer Garner and Ben Affleck, definitely a factor in its rapid climb to popularity," the site explains.
Vermont is the only state where 'Violet' is nearly as popular as it is. The name hasn't reached the top 5 level of popularity in any other state in the U.S.
According to the SSA, Violet first appeared in the top 1,000 most popular names in the United States in 1900. Violet's popularity rose steadily until 1927, when it dropped out of the top 100 list. From there, the downward fall continued steadily. By the mid-60s, the name slid down into the 800s. The name hit its lowest popularity in 1982, ranked 987, until it saw a very fast and impressive rise in popularity again.
It's clear that Violet is a trendy baby name right now. By 2012, it was already in the top 100 most popular baby girl names nationwide, and by 2022, it hit spot #20.
And, of course, as such a trendy baby name, Violet isn't only popular in Vermont. But it's not ranked as high, or higher, in any other state, it's ranked 24th in Alaska, 16th in Iowa, 36th in New York, and 29th in Tennessee, to name a few.