This Gender-Neutral Name Popped Off In Hawaii & Now It's Trending Everywhere
Move over, Kai Lenny. There are more Kais where that came from.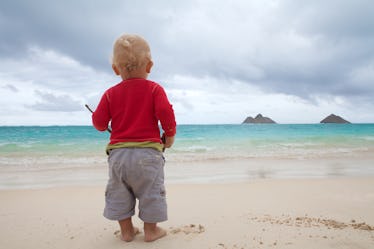 M Swiet Productions/Moment/Getty Images
When it comes to baby names, some names are like shooting stars, catapulting into popularity over a year or two before fading into obscurity. Some have been around for a while, slowly climbing the popularity charts and waiting for their turn to shine. One simple name has been slowly taking over in Hawaii, and now it's trending across the United States. The baby name Kai — gender-neutral but most popularly used for boys across the U.S. — is finally getting its chance in the spotlight, and here's why.
The U.S. Social Security Administration, which tracks the most frequent names for male and female births each year, tallied the most popular names in Hawaii in 2022, and there was one standout name.
While the top two most popular baby boy names in Hawaii — Noah and Liam — aren't surprising since they're popular across the country, the third most popular boy name in the state — Kai — is different. In fact, Hawaii is the only state where the name is in the top five most popular baby boy names nationwide.
According to the SSA, Kai first appeared in the top 1,000 most popular names in the United States in 1979, and it's been slowly but steadily rising ever since. In 1979, Kai was ranked 955; a decade later, it jumped to 850, and by 1999, the name founds its way into the top 500. By 2022, the name landed at the 59th most popular boy's name in the United States.
(The name, though in the top 1,000 list of most popular names for baby girls, is not nearly as popular. It only hit the top 1,000 list in 2010, where it debuted at 955, and it's currently the 790th most popular baby girl name nationwide.)
Of course, Kai isn't only popular in Hawaii. For example, Kai is ranked 27th in Alaska, 36th in Arizona, 98th in Kentucky, and 76th in Rhode Island, to name a few. But it's not ranked as high or higher in any other state.
"Kai" is a name that has multiple origins, each carrying distinct meanings with roots in several languages, and its meanings vary across different cultures. For example, in Hawaii, the name means "sea," according to Nameberry. "In Europe, Kai is largely considered to have Frisian origin as a diminutive of the name Kaimbe, meaning 'warrior,' or as a short form of Gerard 'brave spear.'" The site also notes that the name is found in African, Chinese, Turkish, and Native American cultures.
If you're choosing to put Kai on your shortlist for a possible baby name, your kiddo will be in good company: Kai Lenny, an American professional big wave surfer; Kai Winding, a trombonist and jazz composer; and Gigi Hadid and Zayn Malik's toddler daughter Khai will all be contemporaries.