Travis Barker's Son's Emotional Reaction to Kourtney Kardashian Proposal Goes Viral
Congrats to the happy couple – and their new family!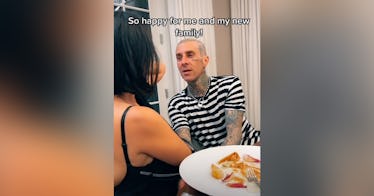 Congratulations are in order for Travis Barker and Kourtney Kardashian. The two got engaged on October 17, 2021, and it seems like both of their families are super happy for the couple. Kourtney's famous family has taken to social media to share their love for the couple. And Travis' kids have, too.
Kourtney took to social media to share a photo taken of the moment that Blink-182 member Travis proposed to her on the beach. Kourtney captioned the photo with "forever," and her loved ones took to the pic to share their best wishes.
Her sister Kim left several heart emojis, and Khloe did as well. Travis commented on it, too, writing "forever" back, and there were thousands of comments from Kourtney's friends and fans, too. But perhaps the most important reactions have come from Travis Barker's children.
Travis' 15-year-old daughter, Alabama Luella Barker, posted her congrats and seal of approval, too. She wrote, "Love u guys."
Travis' 18-year-old son, Landon Asher Barker, also chose to share his feelings on his TikTok profile, which quickly went viral. Posting a video of his dad and Kourtney hugging and kissing each other during what looks like an engagement celebration, he captioned the video, "So happy for me and my new family."
The video quickly went viral, currently with 1.8 million likes and 14 million views. While it would be easy to say it went viral because they're a famous family, it's probably deeper than that.
The fact that Landon said, "me and my new family," totally welcoming Kourtney, her three kids, and extended family into his life, it's really sweet. It highlights that there's so much love here, that there's a wonderful blended future on the horizon for the newly formed family.
Congrats to the happy couple – and their new blended family!