This Quirky, Nature-Inspired Baby Girl Name Is Trending In Just One State
This name is one of the state's top five most popular girl names. However, it hasn't made the shortlist in any other state.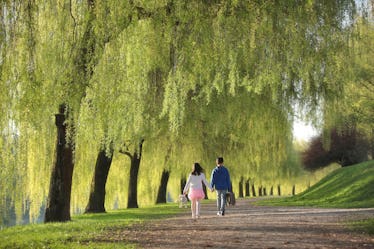 susan.k./Moment/Getty Images
Nature-inspired baby names: They're popular for a reason. Beautiful and calming, they're uniquely good at being both timeless and distinctive. Names like Ivy, Violet, Ash, Kai (huge in Hawaii), Daisy and Aurora (the most popular baby girl name in Alaska), conjure everything from mountain meadows to the open sea. And right now in West Virginia, there's one nature-inspired baby name that's super popular in the state and trending nationwide — and that toes the perfect line between popular and unique.
This name is as beautiful as can be and is the fourth most popular baby girl name in the state. But it's in a world of its own — the name doesn't rank in the top five baby girl names in any other state.
The name? Willow! According to Nameberry, the name Willow is unisex, though we rarely hear it used for boys. It's an English-derived name and is inspired by the Willow tree, the giant tree that has drooping leaves that look elegant and classy.
"Willow came into use as a given name after the willow tree, whose name was derived from the Old English word welig, meaning 'willow,'" Nameberry notes. "Willow trees are associated with grace and elegance, which gave way to the adjective 'willowy.'"
For the past two years, Willow has been ranked the fourth most popular baby girl name in West Virginia, joining Amelia, Olivia, Sophia, and Ava.
But how is the name ranking nationally? The name first hit the list of the top 1,000 most popular baby girl names in 1998 — when it was ranked as the 854th most popular name. It's since slowly worked its way up the ranks over the years. In 2008, it was the 407th most popular baby name — and in 2022, the most recent year for which the SSA has data, it's the 37th most popular baby name. Right now the name is more popular than it's ever been — and it's clear that West Virginians are ahead of the curve, perhaps even defining a national baby name trend.
West Virginia is the only state with Willow in its top-five list for 2022. In comparison, the other names in West Virginia's top baby girl names were very popular across many other states as well.
So what gives? Perhaps West Virginians are just more cosmopolitan than the rest of us. According to Nameberry, the name Willow is "highly popular in Australia and in the U.K., Canada and Scotland." Or maybe they're just more clued-in to celebrity culture: Several celebrities have named their kids Willow, including Will Smith and Jada Pinkett Smith, and Pink and her husband, Carey Hart.