This Map Shows The Most Popular Easter Candy And Are You Really That Surprised?
One true Easter candy to rule them all.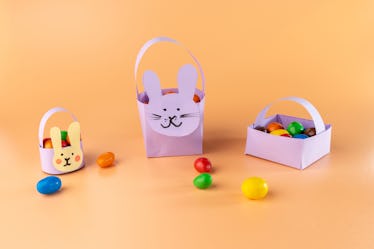 Shutterstock
Easter is a holiday that, for those who celebrate, comes chock-full of, well, sweets. For many people, this time of year, pastel-colored, chocolate-coated, sometimes sour candy is just impossible to avoid, and for celebrators, it's simply part of how they mark the special occasion.
And it's fodder for an excellent, low-stakes debate. Are Peeps actually good? What jelly bean is best? What discount candy will you pick up on Monday, April 10th? And have you ever wondered which Easter candy is the most popular in your state? What about the whole country? If you have, you're not alone, and now we have a map that answers the question — and there's one very clear winner.
Instacart released a report that details the 2022 Easter shopping habits of people across the United States using data collected through an online survey open from March 2-6, 2023. The Harris Poll, on behalf of Instacart, collected data from 2,044 adults 18 years old and older, and of that, 1,390 celebrate Easter.
"As people gear up to gather with loved ones and mark the moment together, we're sharing insights about the top feasting foods and treats expected to make an appearance on holiday tables this April based on Instacart purchase data," the report says.
There's one candy that dominates — Reese's Peanut Butter Eggs took the top spot for the most popular Easter candy in the United States, named number 1 in 30 states. The rest of the candies were nearly tied in terms of the number of states that have them in the top spot. Cadbury Creme Egg and Kinder Chocolate Candy Egg were only the most popular in a few states.
The report from Instacart shared some more food-related findings as well, including ham being the top food purchased for Easter.
"Of those who celebrate Easter, nearly three-quarters of Americans enjoy this tasty main course for dinner (74%)," the report notes. "In fact, ham is the most popular Easter main course purchased on Instacart's platform by the number of orders, with orders spiking by 254% in the week leading up to the big day."
To check out the full report of popular Easter foods, head to Instacart.