Here's What The Debt Ceiling Deal Really Means For Your Student Loan Debt
There's one major provision tucked into part of the debt-ceiling deal that will impact millions.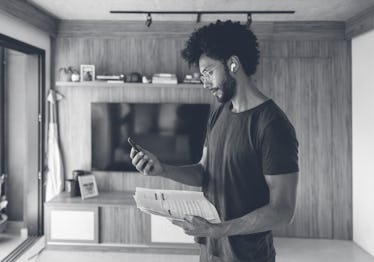 Hispanolistic/E+/Getty Images
On May 27, House Speaker Kevin McCarthy and President Joe Biden announced they had reached a deal to raise the country's debt ceiling before the looming deadline. At the time, Biden said reaching accord meant some compromise, which meant that while the agreement "protects my and congressional Democrats' key priorities and legislative accomplishments... not everyone gets what they want."
Now, the details of what that compromise looks like are being made clear, and there's one central provision tucked into part of the debt-ceiling deal that will impact millions of student loan borrowers.
The debt ceiling deal — which hasn't yet been made law but has cleared key hurdles in the House — includes a provision that requires that student loan payments resume 60 days after June 30.
Is this student loan payment pause provision different from before?
Yes and no.
In November 2022, Biden officially extended the pandemic-era student loan payment pause for the seventh time, what he announced would be the final time, until at least June 30th. The Biden administration also announced that should the Supreme Court case on student loan forgiveness still be pending, the payment pause would last until at least 60 days after the litigation was resolved. But if litigation weren't resolved, payments would still begin 60 days after June 30.
With the passing of the debt-ceiling deal, the plan is functionally codified into law: student loan payments and interest on those payments will start 60 days after June 30, or by August 30, 2023, whether the litigation has been resolved or not, per USA Today.
Most crucially, the debt ceiling deal limits the ability of the Biden administration to extend any student loan payment pauses in the future. (Both the Trump and Biden administrations extended the pandemic payment pauses several times, even when they said they would extend it for the 'final' time.)
According to Politico, the debt-ceiling bill will prevent the Secretary of Education from using "any authority to implement an extension" of the ongoing pause on federal student loan payments. Secretary of Education, Miguel Cardona, claimed on Twitter that the debt-ceiling deal "protects our ability to pause student loan payments should that be necessary for future emergencies." What that means for borrowers right now is currently unclear.
But, the Biden administration seemed to already be ready to return to repayments, regardless of how the Supreme Court case turns out. They're gearing up to "ensure a smooth return to repayment process," Cardona added on Twitter.
What about student loan cancelation? Does this deal affect it?
The short answer is no. The student loan cancellation plan, which the Biden administration proposed in August 2022, will impact 43 million eligible borrowers with federal student loan debt. The plan would cancel up to $10,000 per borrower who makes under $125,000 if they are single filers, $250,000 if they are joint-filers, or $20,000 if they received a Pell Grant.
The legal authority of this debt cancelation is still under review by the Supreme Court. If the plan is overturned, this debt ceiling plan could mean that the student loan repayment pause will be over and payments will resume with interest anyway.
What are people saying?
Congresswoman Ayanna Pressley introduced an amendment to strike the provision in the debt-ceiling bill that would impact the federal student loan payments, warning of the harm it will cause to Americans.
"The student loan payment pause has been an essential lifeline for workers and families struggling to make ends meet," Rep. Pressley said in a released statement. "My amendment would protect student borrowers while also affirming the President's clear legal authority to implement payment pauses, broad-based debt cancellation, and other critical relief measures. Republicans continue to play games with our economy, with disregard for our most vulnerable families."
Mike Pierce, Student Borrower Protection Center executive director, spoke out against the debt limit deal and its negative impact on student loan payments, throwing support behind Rep. Pressley.
"The pause on student loan payments remains one of the most durably popular pieces of economic policy because the American people recognize what Washington has long struggled to understand: the student loan system is broken, and the burden of student debt creates a barrier to economic opportunity for all of us," Pierce said in a press release. "The debt limit deal raises the stakes even higher for millions of working people with student debt."
The Debt Collective spoke out against the provision of the bill as well, saying it may have "huge and catastrophic financial implications for 50M+ people" and outlined the holes in the deal that could have a tremendous impact on people should payments be restarted without a confirmed go-ahead on the student loan cancellation plan.
OK, but the debt ceiling deal isn't final. Is it actually going to happen?
While Biden and McCarthy feel they have enough votes to pass the bipartisan debt-ceiling bill, it's not technically finalized yet because it has to be agreed on by the House and Senate. Voting on the bill began in the evening hours of Wednesday, May 31. The bill cleared the House and is on the way to be voted on in the Senate, where the Senate will stay in session until a bill is passed.
The Senate has until Monday, June 5, to pass the bill; otherwise, the government will default on its debts, triggering a financial crisis that would impact more than just the U.S.
"A debt default would be a cataclysmic event, with an unpredictable but probably dramatic fallout on U.S. and global financial markets,'' Eswar Prasad, professor of trade policy at Cornell University and senior fellow at the Brookings Institution, told PBS.
What does this mean in the long run?
In short, there's not a lot going on with student debt cancellation right now, since the matter is in the hands of the Supreme Court. The Court has yet to make a ruling on whether Biden overstepped his authority in canceling student loans. The final decision is expected to be made sometime in June; however, an actual date hasn't been defined.
Unfortunately, no matter what happens with student debt cancellation, borrowers may find themselves between a rock and a hard place come September — forced to pay down loans they can't afford while they once again accrue interest, with or without any debt cancellation.