The Secretary Of Education Sets His Sights On Child Care
Child care costs are soaring and Americans are struggling. Secretary Miguel Cardona explains the struggle — and the path to a permanent solution.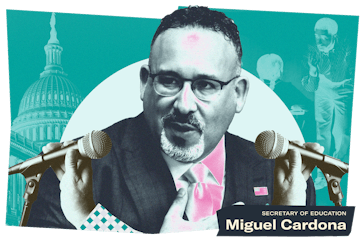 On Tuesday, April 18, President Biden announced an executive order directing the executive branch to focus on the child care and long-term care industry, finding ways to cut costs for American parents and expand access to these essential services. The order comes at a time when child care in America has never been less affordable. 51% of parents say they spend more than 21% of their income on child care and 72% say they spend more than 10% of their income. After all, the One First Five Years Fund report found that the cost of child care had increased by 214% since 1990 — well outpacing inflation.
The executive order is not a solution in itself. It is more a statement of prioritization from President Biden — an ask that the executive branch find change in the couch cushions while we wait on a more permanent answer, in legislation.
Child care legislation could take many forms. The American Rescue Plan, for example, provided billions and billion in funds to stabilize the child care industry, then in free fall due to the pandemic. But, of course, that was a temporary salve. Biden's Build Back Better Plan — which died on the Senate floor — had more permanent solutions. In it, child care was prominent, with majorly increased government spending on a variety of federal and state-run programs while also capping costs for parents and raising pay for providers.
If we keep going the way we're going, we're limiting opportunities for those who want to continue in the workforce.
But until there are more legislative solutions — and there are no big promising bills now in Congress — the executive order and movement in the executive branch have the ability to ease some of the pain for some American parents. How exactly? To help us understand what can and can't be done under these orders and what movement we might expect to see soon, Fatherly talked to Secretary of Education and dad of two young children Miguel Cardona.
The CARE Executive Order Biden announced on Tuesday, April 19, is all about child care — a huge pain point for so many parents. What does the executive order mean for families?
Secretary Miguel Cardona: It's really a realization from the president that if we keep going the way we're going, we're limiting opportunities for those who want to continue in the workforce. The cost of child care and the cost of family care, or caring for those who have special needs, has just ballooned. Over the last 10 years, [the cost of] child care has ballooned 26%. Caring for family members, the cost of visiting nurses, and all that has ballooned by 40%.
So the president has directed the agencies to really focus and hone in on how federal dollars can be used to support, in my case for example, early childhood education and education programming, not only through the American Rescue Plan dollars but also through the Title I dollars that my agency distributes.
We should be focusing on making sure that districts and states know that the money could be used to provide early childhood programming so that families can have a bit of a respite to go back to work.
In many cases we have college students who are parents, right? And they have little children. And oftentimes, the cost of child care prevents them from going to college. So we're also pushing and encouraging colleges to use federal dollars that they have for a program called CCAMPIS, which is basically child care on campus so that parents can go to school.
It's things like that, focusing our efforts on making sure we ease the burden of families.
How do these programs and actions bring down child care costs for families?
Yeah, that's a good question. So what does this mean for families, right? Let's say I'm going to work with colleges to make sure that they're using the money for that program called CCAMPIS, which is again, child care on campus so parents could go to college.
So there was an example yesterday, the president was introduced by Kezia, who visited with the first lady [a few years ago] at Bergen Community College. She was an example of a person that went back to school for her nursing degree while her twins, who were toddlers at the time, were getting child care on campus free of charge.
Kezia could not go back to college if she was paying whatever the market rate was for child care in her community. So that's one example of what we could do: to encourage college campuses to expand that program.
Another thing, if we're working with districts on how to use federal dollars to expand pre-K programs for 3- and 4-year-olds, those 3- and 4-year-olds are going to attend pre-kindergarten programs, which the parents don't have to pay for, which allows them access to the workforce because their children are now cared for.
So in terms of programs where you say you're working with districts on how to use federal dollars to expand pre-K programs, would that access be limited to certain families, like military or federal employees, or people who make under a certain income limit?
There are different programs across the country for early childhood education. Some programs are targeted toward families with very few resources. It all depends on what funding stream they use, right? If it's a Title I funding stream, it might be for families who are struggling a little bit more financially.
Depending on the funding stream, there are different requirements around that, but the goal, really, is to provide support to those families who need it most. That's what the president [is] trying to get us to do: focus on the challenges that are out there, and how the funding that we do provide currently could be aimed at addressing this need.
We recognize all families need a little bit of support here ... the cost of child care growing 26% in 10 years affects everybody.
I was sitting next to Xavier Becerra, the secretary of health and human Services, yesterday when the president made the announcement. We were talking about how his efforts are going to be aimed at providing more Head Start seats [for kids] because he oversees Head Start.
So now, if kids are in Head Start for the day, that gives their parents access to work. And Head Start is aimed at providing opportunities for communities that have a little bit more need.
For so many parents who make just a little bit more, and don't qualify for these programs but are still being crushed and spending 18% to 20% of their incomes on child care, do you see these executive order changes bringing down child care costs for them? Or does that have to be addressed with legislation?
Look, legislation helps. The president did call for $750 billion to support high-quality affordable child care, preschool, and long-term care in [his annual] budget.
If you look through [the Biden administration's] budget, we recognize all families need a little bit of support here. Yes, there are some that are really struggling to make ends meet, but the cost of child care growing 26% in 10 years affects everybody.
So, the programming is not intended only for some. As I said earlier, some grants are focused on communities that really struggle financially, but there are programs that we have — like the president just called for $500 million to provide more slots for early childhood education [in his budget] — that's for all families.
The president's budget proposal recognizes that all families need a little help, not only with child care and early childhood education but also with caring for family members.
The president is telling the secretaries, 'Hey, look under the hood. What are we doing to help these families?'
There are some families of the sandwich generation that are caring for their children and their loved ones who are older or sick. They're ones that really need a lot of help, and that crosses the line from those families who have significant financial needs to those families that are middle-class hardworking families that also need a little bit of support. So it's included in the budget.
It sounds like this executive order is using all the tools of the federal government to get as far as you can without spending more money, and Biden's budget proposal would go further, if it were able to become law.
Absolutely.
The president is telling the secretaries, "Hey, look under the hood. What are we doing to help these families? I want to see some results from each one of you to make sure that we're helping these families across the country." Right?
And then on the budget proposal, he's proposing additional supports to provide more help. But as you know, the speaker [of the Republican-controlled House, Kevin McCarthy] yesterday mentioned how he wants to cut the budget. We're going to keep fighting there. But the president is also saying, "With the existing dollars you have, how are we helping these families?" And that's been our charge.
You mentioned this earlier, and I think this is the most exciting for parents — could this order encourage an expansion of pre-K, and could it bring day child care and maybe 3-K to public school settings?
Yes. So I'll tell you, I was really excited about pushing that because, currently, while we're talking, I'm in Ohio. I just walked out of a classroom of 3-year-olds and 4-year-olds.
So in the budget proposal, we have an expansion of early childhood education, but in this executive order, there is, again, a focus on making sure the Department of Education and the Department of Health and Human Services through Head Start is really encouraging and pushing for states and local districts to use federal dollars to enhance the number of seats that they have available for 3- and 4-year-olds. Yes, absolutely.