Would You Pay $5 to Stay in the 'Scream' House for an Entire Night?
The house from 'Scream' is on AirBnB for $5 a night... what are the hosts hiding?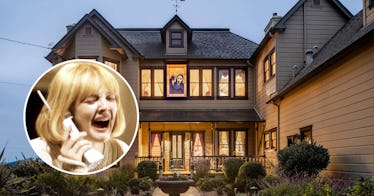 Helynn Ospina / Dimension Films
If you're still solidifying your October plans, we have something that might interest you. Turns out the house that's featured in the first Scream movie is now on Airbnb. And there's a chance you could be a guest. If you like scary things, loved or love-hated the movie, here's what you need to know.
In celebration of Scream's 25th anniversary and promoting the upcoming release of the fifth installment of the movie horror franchise in 2022, fans have the chance to stay at the place where Ghostface terrors began.
Located in Tomales, Ca, just outside San Francisco, the stay includes a whole lot of fun amenities and perks that any Scream fan will appreciate. The listing goes live on Airbnb on Oct. 12 at 1 p.m., ET, and there are only three dates available to book a night for you and three guests.
"As the next brave souls to spend a night at the Scream house, you'll get to experience all the scariest elements of Scream in the home where the first film's most thrilling and suspenseful moments took place," the listing reads.
Extra perks of staying include a virtual greeting during check-in from Dewey (aka David Arquette who played the character in the movie), a movie marathon featuring all four Scream movies on VHS, '90s snacks like Jiffy Pop, ice cream and Reddi-whip, and pizza. Also, there's a dedicated phone line for guests where they can speak to Ghostface.
"I'll welcome you virtually, but once you arrive and check-in, our socially distanced concierge will ensure a comfortable stay for you and your guest — including showing you around and arranging meals," the listing reads. "I'll give you my best tips to survive the night, but if Ghostface has anything to say about it, there will be no shortage of haunts and happenings."
Guests also have the chance to take home a Scream bundle which includes DVDs of the movies, Woodsboro High swag, posters, and more. Airbnb clearly states that this isn't a "contest" but with only three dates available (Oct. 27, 29, and 31), the chances of landing one are slim. But sounds like it will be worth it if you're lucky enough to secure a spot.
To help celebrate the scary celebrations, Airbnb will make a one-time donation to Ween Dream, an organization that provides free Halloween costumes to children in need across the country.