Ryan Reynolds Seems To Have Secretly Become A Father Of 4
Ryan Reynolds and Blake Lively seemingly welcomed their fourth baby but casually announced the news by not announcing the news.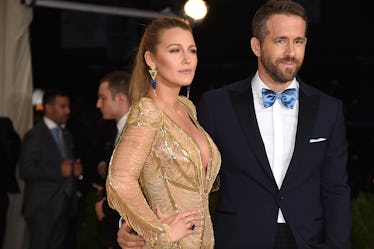 WWD/Penske Media/Getty Images
Ryan Reynolds and Blake Lively seem to have welcomed their fourth baby — but their announcement was and done so casually in their typical, hilarious style, that it was barely an announcement at all.
On Sunday, February 12, Lively shared a photo on Instagram to celebrate the Puppy Bowl, a puppy dog version of the Super Bowl that happens on the same day and features adoptable puppies playing "sports" and being generally adorable. In the photo, Lively is standing between Reynolds, her husband of nearly 11 years, and his mom, Tammy Reynolds, looking casual and comfy like they're about to watch some dogs or football. Included in the post were a few photos of some homemade snacks, with a caption that read: "been busy."
But what wasn't in the photo was probably a baby announcement — Lively was visibly not pregnant, wearing jeans and a fitted tank top with nothing obscuring her abdomen. Given the last time we saw Lively at the American Cinematheque Awards last month when she was visibly very pregnant, we're guessing the two have welcomed their fourth baby.
The non-announcement announcement is very on-brand for the Hollywood couple who are also parents to James, 8, Inez, 6, and Betty, 3. Lively didn't officially announce her pregnancy either, instead stepping onto the red carpet at the 10th annual Forbes Power Women's Summit in September visibly pregnant while saying nothing. However, she confirmed the news days later with a carousel of home photos while calling out the paparazzi who were camped outside her home trying to get a candid picture — and urging people to remember that her family and children deserve privacy.
Will we hear much more from Lively or Reynolds on the birth of their baby? Maybe not! at least not for a while. The two are notoriously quiet about their private life and, rather understandable, don't share many photos of their children online or details about them.
In fact, there's a far better chance of learning more about the Lively-Reynolds kids through their good friend, Taylor Swift. The singer has a history of sharing the first details about Lively's kiddos, such as their names, through Easter egg drops in music. And fans speculated that Swift has already dropped the name of Lively's fourth baby in her track "You're On Your Own Kid" — so if she ends up having a baby named Daisy May, Taylor Swift told y'all long ago.