The Real-Life Parenting Moment That Made Ryan Gosling Realize He HAD To Play Ken
He's just Ken! No, really, he is.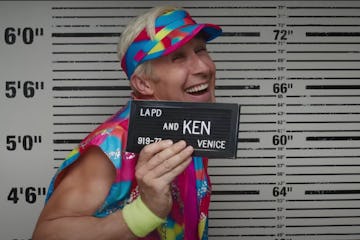 Warner Bros/Mattel
Ryan Gosling is returning to the silver screen as a pseudo-Replicant, but not the kind he played in Blade Runner 2049. Instead, Gosling is playing another kind of simulacrum, an iconic role that many of us have known since our childhood. Gosling will play the man-doll, Ken in the upcoming live-action Barbie movie, and as part of his press tour, Gosling recently opened up to GQ Magazine to talk about his return to Hollywood, his connection to the iconic Barbie and Ken duo, and his life off-screen, too.
When whispers of a Barbie movie being made started to spread, the role of Margot Robbie as the lead character just made sense. But the conversation on who would play Ken was more up in the air. When it was announced Gosling snagged the role, it wasn't as obvious. But for Gosling, this was the right role at the right time in his life. Outside the screen, he's a dad to two daughters, Esmeralda and Amada, with his longtime partner and fellow actor, Eva Mendes. And he has a very vivid memory of his girls playing with Barbies and Ken dolls, which resonated with him in a hilarious way.
"I did see [Ken], like, face down in the mud outside one day, next to a squished lemon," he shared. "And it was like, 'this guy's story does need to be told, you know?'"
Gosling is a very private guy off-screen, and generally, holds his personal life very close to his chest. He and Mendes never walk red carpets together, the two don't have public social media accounts, and they rarely talk about each other. But, in his interview with GQ, Gosling shared what life as a dad is like.
"When you asked me about Eva and kids, I think I said I didn't think about kids until she told me she was pregnant. That's not really true," he admitted. "I didn't want to overshare, but now I also don't want to misrepresent."
From 2018 to 2021, Ryan Gosling didn't make a ton of movies. He attributes this brief absence from the spotlight to a focus on dad duties. In the new GQ interview, he says directly, that the birth of his second child meant "I wanted to spend as much time as I could," with his wife Eva and the new baby.
So now, dad-Gosling is back in the movies, and fittingly, embodying one of the most famous children's toys of all time. We can't wait to see what happens next.
Barbie hits theaters on July 21, 2023.