The Barbie Movie Is Clearly For Parents. (Sorry Kids!)
The newest trailer is perfectly nuts — and quite adult. Bring it on.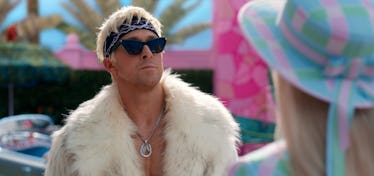 Warner Bros/Mattel
Barbie is leaving her sci-fi world of Barbie Land and entering the real world. This bonkers premise is the actual plot of the new Barbie movie; what if dolls from another dimension entered our world? The latest trailer reveals Ken (Ryan Gosling) and Barbie (Margot Robbie) entering our world and facing the oppression of Will Ferrell as a kind of mad scientist intent on banishing Barbie and Ken back into their boxes. Could the whole thing play out like a metaphysical episode of Doctor Who? Are we saying this because Ncuti Gatwa is in the movie and he's also the new Doctor Who? We're not not saying that, but it's also possible that this movie will play out like Toy Story meets Black Mirror. In other words, we're in. We're just not bringing the kids.
The latest trailer for the Greta Gerwig-directed extravaganza has dropped and it looks just as nuts as the previous trailers. The biggest difference now, is that we (kinda?) understand the premise. Barbie has to leave Barbie Land and deal with real life, which, clearly will lead to various kinds of criticisms of the existence of Barbie in the first place. As the trailer states clearly: "If you love Barbie, this movie is for you. If you hate Barbie, this movie is for you."
Clearly, the Barbie movie will be the most self-aware movie designed by a corporation of all time. It seems so strangely pointed, that it feels possible that people might want to destroy Barbie toys right after seeing the movie. Or, perhaps, we'll have a newfound love for these problematic dolls, and actually love them again? (Or something?)
Either way, the movie looks great for date night, but likely not for family night. Barbie gets straight-up harassed in the trailer, Ken is clearly a huge sexist, and the pair are both arrested at least once. The vibe here, in some places, feels closer to Spaceballs, but if Spaceballs was actually a Star Wars movie and not a spoof.
This is, of course, a huge compliment, and the film looks amazing and not like anything we've seen before. But, probably best if the grade-school-aged kid stays at home, and the angsty tween comes along instead. Otherwise, this movie is a perfect one for parents to hit up for date night. Barbie's having a blow-out party and Ken is wearing two pairs of sunglasses. Hit it.
Barbie hits theaters on July 21, 2023.